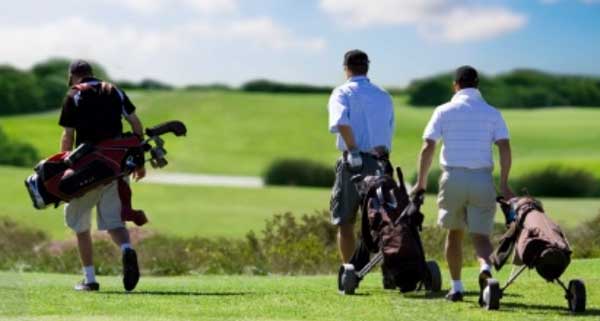 Rules of Golf on your mobile with Sidaro, wherever you are
  I played with a couple of really keen golfers this week - one a radio DJ and the other a professional footballer - both of whom admitted they were naive about the Rules of Golf.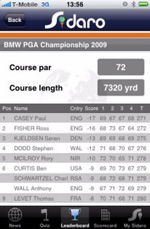 Lice scoring on Sidaro




Though they were keen to improve their knowledge of the game and its illegalities, they had neither the time nor the inclination to study the rule book, preferring to 'pick it up as we go along' and 'learn by our mistakes.'

As they were both up with the latest mobile phone technology - and took every opportunity between shots to check their texts and messages while they were playing - I suggested they might wish to download Sidaro's handy rules questions to refer to next time they were stumped for a ruling on the course.

It would also enable them to keep up with European and US Tour news and leaderboards, track their own statistics and take advantage of exclusive offers and prizes for Sidaro members.

There would also be the chance to play in the Sidaro World Golf Rules Championship with over £2,000 in monthly prizes, a winners play-off at The Wentworth Club and an online chat room with other Sidaro golfers.

Both promised to check it out.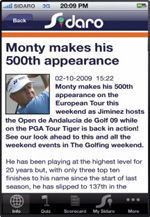 Latest Tour news on Sidaro




Sidaro is available direct from your mobile phone, compatible with more than 1200 handsets, as well as the web and WAP.

Since its launch at The Open, users can gain access to Sidaro by visiting www.sidaro.com and downloading a free 14-day trial. Golfers can then access Sidaro as a mobile or a web-based service and enjoy synched interaction between your phone and computer.

After the free trial, standard costs will be £5 per month charged directly to a mobile phone bill or via credit card, or £29.99 per year via www.sidaro.com charged by credit card or PayPal.

Sidaro is backed and co-founded by top international referee, John Paramor. As well as advising on questions on the Rules of Golf and Decisions on the Rules of Golf for Sidaro's interactive quizzes, he will also be part of a panel of rules experts available to answer specific Rules questions from members.

"Having a good knowledge of the Rules is almost like having a 15th club in the bag – without being penalised!" says Paramor. "Golfers can be confident they will not incur a needless penalty and will be able to take relief correctly when it is available. Sidaro allows golfers to develop their Rules knowledge in a way that's fun."