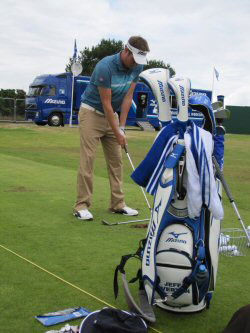 Jeff Overton, warming up at The Open
Mizuno has high hopes for its players in The Open this week - one of the few times in the year when the Mizuno engineers on the Tour van get to work with them as a group.
"It was great earlier in the week to watch Jeff Overton working on his driver trajectory for different wind conditions," said Mizuno's workshop manager Andy Kikidas. "Teeing it low for shots into the wind, he's capable of producing very little spin but obviously has the ball speed to keep it in the air. For the shots down wind, and to obviously maximise distance, he tees it up higher and catches it more on the up for a higher launch to carry the wind."
Teeing it up high to optimise downwind conditions is something golfers of all levels can learn from. Teeing it low into the wind can be dangerous for club golfers as it tends to create extra spin. Better, maybe, to put it on an intermediate tee and try to hit it solid.
Overton started with a solid level par 70, while Brian Gay, despite two recent wins on the US Tour and a 13th place finish in the Scottish Open, ran into a few problems early in his first round.
Said Kikidas: "To say Brian hits it very straight is an understatement! He put on a very impressive display on the range, with his caddie randomly pointing out different flags to aim at and Brian duly followed up by landing each shot within a few feet every time. Seriously straight!
"He's not the longest of hitters but his accuracy and putting will certainly make up for any lack of distance from the tee. I joked that he's so straight he could aim at the path running through the rough from tee to fairway on some holes and he said at the US Open they did actually aimed at the path on a couple of holes."
Luke Donald, after playing some warm-up links golf on a few Scottish courses was the first - and only - player on the Turnberry range, when the Mizuno truck set up last Saturday.
"It was really strange to see considering the vast scale of things at the Open," said Kikidas. "We did some work with him with his wedges as he was trying to adjust to the firmer, tighter turf conditions. He tried a few different bounce angles and sole shapes to get a more consistent strike on the ball.
"One that worked well with the face square didn't go so well with the face wide open but I think we found a combination in the end that worked for him."
Luke, playing with Darren Clarke, opened with a one-over par 71.