Kasco Golf is introducing a new and innovative range of putters aimed at keeping the putter head more stable at impact.
The Silver Wing range consists of four mallet style models each heel-shafted and with its own unique design and shape but all offering the same high level of performance, says Kasco.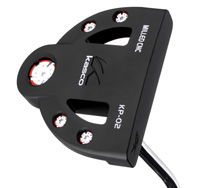 Sole of the Kasco KP02




Milled from aluminum for a soft feel at impact the £99 putters have milled grooves in the face to create top spin and get the ball rolling with more consistency.

Fixed weights are placed in the sole of the KP01, KP02 (pictured top left), KP03 and KP04 (top right) putters designed to increase weight in the extremities of the clubhead the putter head squarer at impact.

All are available in 33-, 34- and 35-inch right hand versions and the KP02 is available in left hand (34).

*Tell us about the putter in your bag - as well as the, irons, driver, balls, shoes and waterproofs by submitting a user review.