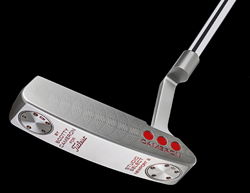 Newport 2 putter from the new Scotty Cameron range
Walk into the Titleist by Scotty Cameron putting studio in California, where his world renowned equipment is engineered and it's treated like an intensive care unit of a major hospital.
Speaking with Titleist staff in Portugal last week, I'm told nothing is out of place, the equipment is immaculate and spotless and the engineers on the staff have the skills of brain surgeons.
Even Tiger Woods is in awe of this putter laboratory when he visits and is never surprised by the attention to detail.
So imagine the months of intricate work that has gone into the latest Scotty Cameron Studio Select family of Newport-style putters, which for the first time will be available in 33-, 34- and 35-inch lengths, with circular weights in the heel and toe to deliver the optimal head weight appropriate to each shaft length.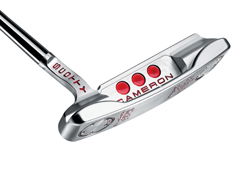 Newport 1.5 putter




Apparently there's nothing Cameron hates more than golfers cutting an inch or two off the shaft and expecting its swing weight to be unaffected.

The new line features two different body styles - the Newport and Newport 2 - and three different neck configurations - plumbing, short flair and mid slant, making it easier, says Titleist, for golfers to choose a putter with the appearance they prefer, the length they need and a hosel that provides the proper amount of toe flow during the stroke.

"Different golfers require putters of different lengths, body and neck configurations," says Cameron, " but most putter heads are only weighted for 35-inch shafts and therefore, are much too light for shorter lengths, or too heavy for longer lengths.

"Too often the same heads are placed in shafts of all lengths, which means the golfer has to hit at the ball instead of being able to stroke it, creating distance control problems."

All four models – also including the Newport 1.5 and Newport 2 Mid Slant - feature a high toe set-up that reduces the tendency for players to raise the toe and aim left of target. The soft 303 stainless material delivers a crisp, solid feel at impact. All models are available in right hand and the Newport 2 is available left-hand in three lengths.

Studio Select putters will be available in from March 15, priced at£220.