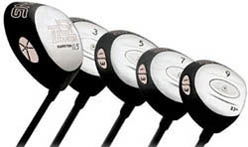 Ping's range of women's metals.




I once asked Ryder Cup hero Paul McGinley what would his best advice be for amateurs. He told me without hesitation – learn to use fairway metals instead of long irons.

The Irishman told me how frustrating it was for him in pre-event pro-ams when he tells his amateur partners – 'if you want any advice you only have to ask. But I won't give it unless you ask my opinion. I'm also trying to learn as much as I can about this course for tomorrow.'

"And then they proceed to reach for 2-, 3- and 4-irons without a hope in hell of hitting them like the pros do. It's so frustrating. If only they looked seriously at fairway woods with a bit of loft – the 7- and 9-wood, for instance - they'd do so much better."

Hilary Lunke had a bunch of fairway metals in her bag when she shocked the golfing world by winning the US Women's Open at Pumpkin Ridge recently in an 18-hole playoff. In fact, she had five woods in her bag.

She carried 13 Ping clubs at Pumpkin Ridge and one Callaway. She used an 8-degree Ping Si3 driver, a Ping TiSi Tec 3-wood, i3 seven and nine woods, i3+ blade irons (5- to SW-iron), 54-degree and 60 degree Ping wedges and a Ping Anser 2 putter. Odd one out was the Callaway Ely 11-wood.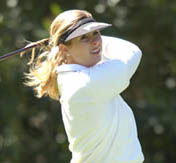 Hilary Lunke.
The former contemporary of Tiger Woods at Stanford University is a great role model for those of us who'd love to rip our long irons the way the pros do – but just don't have the clubhead speed to pull off those towering shots.
Compared to Tiger's 125 mph clubhead speed, Lunke's is 85 – similar to most medium handicap male golfers aspiring to finish in the top ten of their monthly medal.
She uses the 7-wood to carry the ball about 200 yards with a variety of ball flights from a variety of lies and the 9-wood – equivalent to 2- or 3- iron at some of the longer par-4s.
Her 11-wood has a similar specification to your average 4-iron with 24 degrees of loft and a 41-inch shaft – 1.5inches longer than her 4-iron.
It's a versatile club that flies high from about 165 to 175 yards and lands softly.
"Any time I have a bad lie I hit that club," says Lunke, who became the only qualifier to win the Women's Open in the 58-year history of the championship. "For me, it's good from 165 to 175 yards."
It's a popular club among LPGA pros but, like most of the men who use them, they feel it's a little 'un-cool' to be advertising the fact. Most carry a nondescript headcover to protect their embarassment: it's perceived as a little old lady's club.
"Anyone who struggles with a long iron," Lunke says, "would do well to go to an 11-wood. If you don't have enough clubhead speed you can't spin the ball enough off an iron to keep it in the air long enough to get the right distance on the shot. High loft fairway metals are superb."
But fairway metals won't do it all for us. At the end of the day you have to have a pretty good short game to compete at the top level and in club medals.
Ping's Pete Samuels noted that Lunke saved par 17 out of 22 times combined in the final round and the playoff thanks to her Ping wedges and the Ping putter given to her by her father when she was a junior golfer.
She averaged only 26.6 putts per round in the five she played (including the 18-hole playoff). And it was the putter that finally provided the triumphant final shot, holing for birdie after fellow Ping player Angela Stanford had temporarily tied her with a birdie of her own.
Golfmagic is currently testing some high-lofted metal woods and will report back on our findings shortly.
What's in your bag. Are you embarassed to carry 'gentleman's persuaders' or do they work for you? Tell us on the forum.