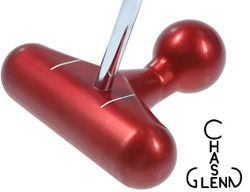 Chase Glenn putter is available in red, blue or silver

We'll try anything - well, almost anything - to get our golf ball into that 4.25 diameter hole in the grass in fewer stroke than our mates.
We'll try square, hexagonal and triangular drivers, offset, blade and perimeter-weighted irons and wedges with U-shaped, square and Y-cutter grooves in our wedges.
But when it comes to putters, the sky, it seems, is the limit. Two-ball, heel-toe, blade, mallet, centre-shafted, belly-shaft, two-thumb grip. The descriptions, styles and varieties go on an on.
Now, one US company is claiming 'the most revolutionary putter for years' - a putter which it says will immediately 'improve your putting game and increase your putting confidence.'
The Chase Glenn putter (priced at $129) is cylindrical, machined from a solid block of aluminiun in a choice of three colours (blue, red and silver) then custom drilled to the angle of your choice - at angles from 72 to 76 angles, to suit the preference of the customer, negating the use of a hosel. Standard shaft is 33 inches.
The makers say: "Forget those weird angles you've used in the past. Align your shot, look at the hole, putt and follow through. Its forgiving cylindrical striking surface combined with a golf ball-sized pendulum balanced counterweight provides a smooth, consistent putting motion.
In the competitive world of putting, a ball that hugs the putting surface and encourages top spin is much sought-after. Harold Swash introduced the idea with his C-Groove Yes! putters and it has since been developed with the horizontal grooves of the GEL-groove and Barbados Rife putter used by Justin Rose.
Much like a solid steel putter used by European Tour veteran Neil Coles in the 1970s, the cylindrical head of the Chase Glenn was designed to contact the ball with top spin, so that 'putts never end up short.'
Tell us on the forum what's the weirdest putter you ever tried.