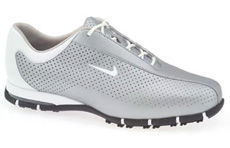 Nike SP-6 shoe for women
Inspired by the input of elegant golfer, Grace Park, Nike is introducing the SP-6 golf shoe for women. Strikingly designed, it comes in either pearl/aluminum/white or white/pearl/bronze and is priced at £100.
A six-time winner on the LPGA Tour, Park has been working with Nike Golf to develop technology that literally helps her keep her feet on the ground longer, through her golf swing.
"I'm excited about shoe I've helped create," said Park. "It's comfortable, it's stylish and has the technology I was looking for to help me. You can also wear these shoes anywhere,"
The spike-free sole incorporates flex grooves integrated to ensure the best possible grip underfoot. Horizontal grooves also provide normal flex for walking while the other grooves allow for shifting of weight during the golf swing. The lightweight shoes feature Sympatex technology and a one-year waterproof guarantee.