From the left, the new Scotty Cameron Sonoma, Del Mar and Corona putters with 'honey dip' finish
The Scotty Cameron tradition of crafting modern classic putters will be enhanced with the introduction of the Scotty Cameron California putter and three new models in the popular Studio Select line from next month.

Endorsed and proved by many of the world's top Tour professionals, the technology Cameron introduced with the original Studio Select putters, has been incorporated into the new California line to accommodate a wider range of choice in terms of length, weight and putting strokes.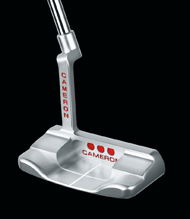 Studio Select Squareback 2




Precision milled from soft 303 stainless steel, the California line includes the Coronado, Monterey, Sonoma and Del Mar identified by blade and mallet-style heads and two different neck styles. California models are also distinguished by a unique 'Honey Dipped' rich bronze finish which reduces glare.

"I'm excited by the feedback I've had about the California putters," says Cameron. "Players who prefer the more flowing, less geometric lines of the Coronado or the Del Mar are now going to find that they don't have to sacrifice performance. Players can get a perfect fit for their stroke as well as their eye."

Cameron has also updated the 2009 Studio Select line for Titleist with the Newport 2.5, Squareback 2 and Fastback 1.5 models replacing the current Newport 1.5, Newport 2.7 and Fastback 1. Recommended price for the new putters will be £223, available from October 15.

WHAT'S IN YOUR BAG?

SUBMIT a golf equipment review into the Golfmagic.com system during September and you'll have the chance to win one of THREE copies of the official film of the dramatic 2009 Open Championship at Turnberry.

It will be your chance to re-live exclusively one of the most thrilling final rounds of any tournament in golf's long, rich history when the legendary Tom Watson took on the might of the European and US PGA Tours and almost caused the greatest upset in living memory.

For a chance to win tell us what's in your bag or what clubs you've tested on a demo day. As well as telling us about the product's strengths and weaknesses, give us a detail impression of how it worked for you and also give it a 3 x 5-star rating.

We'll judge the most appealing - whether singular reviews or multiple reviews - at the end of the month and give DVDs of the 2009 Open to the most deserving.

To enter CLICK HERE.