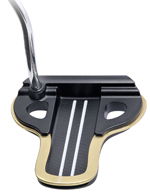 Nicklaus Brass Ring putter
Apart from leaving them short of the hole, an open or closed putter face at impact instead of a square one is the biggest reason why so many putts are missed.
And while a misread or poor alignment are also crucial to most golfers' putting woes, the stability of the clubhead and its resistance to twisting are still key factors in rolling the ball into the hole more consistently.
With its innovative Brass Ring putter, Nicklaus Golf claims it may have found the secret to confidence and improved putting. The 88 gram ring has been designed to keep the clubhead square at impact and deliver the ball more accurately with a truer roll.
Face-balanced and with a milled aluminium body, the Brass Ring putter has a Winn grip and will cost £149.
Tell us about the putter you're currently using by submitting a user review into our products section for the chance to win prizes every month.