Daly Golf's No.5 heads (left) and insert face(right)on the No.3
Until Padraig Harrington re-claimed the Claret Jug at Carnoustie in 2007, the last Irishman to claim a major title was the irrepressible Fred Daly, who won The Open at Hoylake 60 years earlier.
He was not only a great player, but also a master craftsman and club designer and since John Letters produced the first Fred Daly signature clubs in 1948, the Daly family have been involved in club design, with son Robin, himself a professional for 25 years maintaining the dynasty with Daly-Golf.
Now, following two years of research and development and a sneak preview at last year's British Masters at The Belfry, the Daly name has re-emerged with a distinctive style of Precision brand putters for 2008 in which feel off the putter face is a key feature.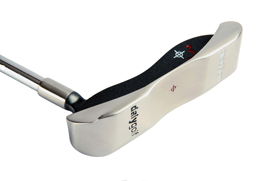 Distinctive sole on the Daly Precision 3 putter




Featuring the Bi-Concave Profile and a flat sole that helps the putter sit square to the target, the Precision 3, 5 and 7 putters all have three degrees of loft and a 72-degree standard lie.

Says Robin: "The flat sole on the Daly Precision putters helps make putting a natural action. By simply placing the clubhead on the putting surface, the sole finds its own perfect centre of balance, even before you grip it.

This ensures a repeatable hand position and, in combination with the stepped ridgerunning along the back of the putter head, provides visually parallel edges to align the club head before you begin your stroke.

Daly Precision putters also feature a 'crisp insert' designed not to soften the impact but to enhance the feel and response in combination with the Bi-Concave Profile, which helps the putter stay stable and balanced.

While the Daly Precision 3 is the original version, the DP5 features a stepped ridge along the back of the clubhead and raised alignment arc. The DP7is a more traditional blade design. Putters are all priced at £129.

A new fitting studio, complete with dynamic swing analysis is currently being installed at the company's headquarters in Ballygowan, Northern Ireland.