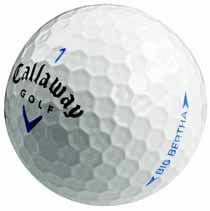 Big Bertha Blue ball
Now look out for Big Bertha's balls! They're red and blue and aim at golfers who want more fun with distance and spin.
The revamped two-piece designs with the distinctive dimple-free HEX aerodynamic pattern on the cover are soon to be available in the UK with a price tag of £17.99 for a box of 12.
With their criss-cross pattern, Big Bertha balls claims to achieve 100 per-cent surface coverage, which reduces drag at takeoff and increases lift at the end of the ball's flight. This is said to produce a high, strong trajectory with the potential for increased distance.
Each ball also features a proprietary ionomer blend for a softer yet durable cover for better feel and performance around the green.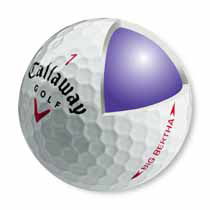 Big Bertha cut away.
The Big Bertha Red is a soft-feel distance ball, while the BB Blue is a combination of distance feel and spin, with higher compression.
Says Callaway Ron Drapeau: "The Big Bertha name has always been about innovation, distance and making the game more fun. The Big Bertha golf balls fit right into that philosophy of using technology to create products that make the game more fun for the average player."
For your nearest stockist call 0208 381 0111.