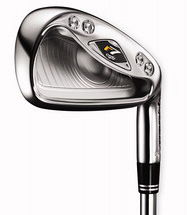 r7 CGB Max iron
The task facing club-makers is to drive the ball higher, longer and straighter with irons as well as with drivers and fairway metals.
Now, using the technology that delivered phenomenal distance to its r7 quad drivers, TaylorMade is to introduce two new sets of irons – the r7CGB MAX and the r7 XD.
The r7 CGB (centre-of-gravity back) MAX irons refer to the clubs' low and deep centre of gravity to encourage improved launch conditions, while the 'MAX' refers to clubhead and ball speed as well as forgiveness, says TaylorMade, adding they are the ultimate in game-improvement iron.
The thin clubface is created separately from the clubhead and using TaylorMade's unique 'inverted cone technology' pioneered in the R500, r7 and r5 drivers, engineers have made a breakthrough to deliver long distance even from miss-hits.
The r7 CGB MAX irons include 3-iron to 9-iron and four wedges, with the recommended price for a set of eight clubs £849 for steel shafts and £949 for graphite. Shaft flexes include stiff and regular in steel and S, R, M in graphite. Available in right- and left-handed and women's models from December.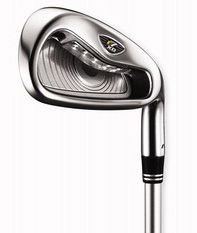 r7 XD iron




The r7 XD irons are engineered to launch the ball 'high, long and straight with exceptional ease as well as delivering exceptional forgiveness on mis-hits,' says TaylorMade.

The clubs also feature the exclusive ICT design with tuned performance cartridge (TPC) technology used in the rac oversize (OS2) and low trajectory (LT) irons, enabling engineers to strengthen the loft of each iron, lower the ball flight and deliver a more powerful and penetrating trajectory.

Identical combinations of irons to the r7 CGB MAX are available but with a recommended price of £649 (steel) and £749 (graphite) for an 8 club set. Availability is at the end of November 2005.