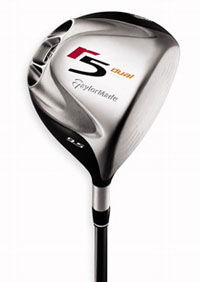 r5 Dual TP driver
Since its introduction earlier this year TaylorMade's r5 Dual driver has proved to be a strong attraction for the club golfer with its draw and neutral bias options. Now an r5 dual TP has been introduced, giving players new powers to tweak the club's centre of gravity for different trajectories and better launch control.
The r5 dual TP incorporates two TLC ports positioned in the back of the clubhead at the heel and the toe and by installing cartridges of differing weights players can move the clubhead's centre of gravity promoting varying degrees of draw and fade and neutral or straight ball flight. It also makes it easier to launch the ball on a high, strong, long-carrying ball flight.
Included with the r5 Dual TP are six TLC cartridges, a wrench wrench, red carrying case and headcover with magnetic seal.
The 450 cc driver is engineered with a square clubface alignment, the preference of skilled players, with a stock TP Mitsubishi Diamana 83 shaft with .335" tip diameter, The r5 dual TP is also available with two custom shaft alternatives, Fujikura Speeder 757 and Fujikura SIX, as used on Tour
"Like many clubs in our TP line, the r5 dual TP was created at the request of tour professionals," says Tom Olsavsky, director of product creation for TaylorMade. "A number of pros expressed interest in the r5 dual Type N, and asked if we could make a similar driver in which TLC cartridges could be reconfigured. The result is the r5 dual TP."
The r5 dual TP will be available from the end of June with a recommended retail price of £449. It will be available in right hand lofts: 8.5, 9.5, 10.5 and left-hand loft of 9.5.
TaylorMade is extended the moveable weight technology to its new r7 TP fairway metals allowing players to alter launch control characteristics to suit taste and conditions.
To save the weight necessary to incorporate TLC into the r7 TP, titanium construction was required, allowing engineers to lower the centre of gravity and move it farther back in the head, helping to make the clubs more playable from a wide variety of conditions.
The r7 TP also features a refined version of the V-shaped sole employed by the TaylorMade V Steel diminishing turf-resistance, and increasing playability and power.
The r7 TP fairway wood family includes a 13-degree 'Tour Spoon', 15-deg 3-wood and 17.5 deg 5-wood. Stock shafts include Fujikura Vista Pro 80 (graphite) and Dynamic Gold (steel) - available in extra stiff, stiff and regular flexes.
Availability will be late June with a recommended retail price of £299 (Graphite) and £269 (steel).