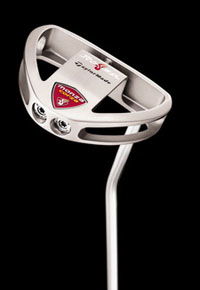 Monza Corza back view
The development of TaylorMade's unique interchangeable weight technology, found in its r7 Quad and r5 Dual TP drivers is transferring to its putters in a bid to find a club to suit all tastes and playing conditions.
The Monza Corza is a large, mallet-style addition to the Monza line of putters engineered with four key high-performance features intended to make it easier to roll the ball smoothly and accurately.
As well as the interchangeable cartridges allowing a player to install as little as four grams or as much as 28 grams to tailor the feel of the putter the Monza Corza includes the Rossa Anti-skid Groove System Insert (AGSI), semi-floating putter face and distinctive linear alignment.
The AGSI is a large putter face insert made of durable Titallium, scored with 12 milled grooves to 'reduce vibration and improve feel.'
TaylorMade's engineers also say that as the putter face lifts and launches the ball forward this new technology imparts forward spin sooner to get the ball rolling on track earlier. 'Bounce and skid is dramatically reduced.'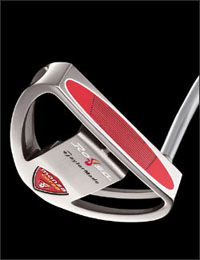 Distinctive face of Monza Corza




The Corza also incorporates a wire-frame design allowing engineers to move a significant amount of weight to the perimeter of the putter head, while attaching the putter head at the toe, heel and in the middle, giving the appearance of the head floating within the framework. 'The result is an exceptionally pleasing soft-yet-crisp feel at impact,' says TaylorMade.

The Corza linear alignment system, consisting of an 'eye-pleasing' bar bridging the front of the putter with the back bisected by a vivid line perpendicular to the centre of the putter face.

Three Corza's are being launched - the Corza, a heel-shafted putter with a double-bend shaft, Corza 1 (heel-shafted with an L-neck) and the centre-shafted Corza Centre. Recommended price is £129.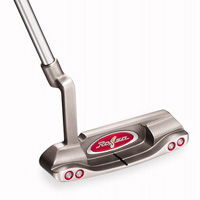 Ross CGB Daytona




Four Rossa CGB putters are also being launched featuring the anti-skid groove system and Centre of Gravity Back technology found in its CGB irons.

The Daytona 1 is an L-neck blade, the Lambeau 7 has a centre-shafted blade, the Sebring 3 features a short, slant-neck blade and the Suzuka is a half-mallet with a double-bend shaft.

The CGB technology employs tungsten CG rods inserted into the rear or tungsten CG plugs inserted into the sole of the putter head, depending on the model. They concentrate weight in the heel and toe to promote forward spin.

Complete with Rossa headcover the price for all four models is £99.