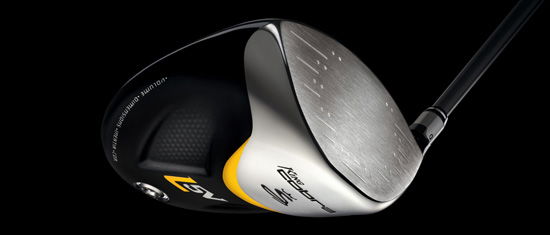 The face of the L5V is the largest and most forgiving of all Cobra designs
Award-winning Cobra Golf, claims it has taken performance to the next level with its latest King Cobra L5V driver, featuring innovative technology to allow the golfer to adjust the clubhead to deliver a personalised ball flight.
The driver, available in four lofts between 8.5 and 11.5 degrees and expected to cost £329 when it's introduced on November 1, features an exclusive hosel design that makes it easy to adjust the angle of the head from the standard neutral factory setting to an increased draw-bias setting.
Every club will be equipped with an L5V torque wrench to insert into the hosel in the sole of the club, so golfers can quickly and easily adjust the ball flight, change the shaft or both 'to maximise personal distance and accuracy.'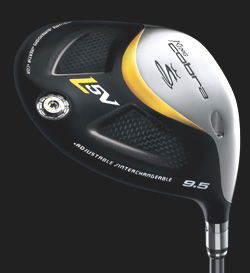 Sole of the L5V - note the swingweight screw and the recess in the heel in which the wrench is inserted to adjust the face setting.




"It's Cobra's largest, most-forgiving clubface and as well as Adjustable Flight Technology (AFT), theKing Cobra L5V builds on our award-winning, Tour-proven L4V driver to take performance to the next level," says Brian Zender, general manager of Cobra Golf. "It's the longest, straightest driver in the 35-year history of the Cobra brand."

By using a face insert and lightweight carbon composite crown and sole inserts, Cobra says its engineers have shifted the centre of gravity lower and further back to get the launch higher and and spin rate lower, reducing those destructive slices from which we can all suffer.

The combination then of AFT, a swingweight screw appropriate to the selected shaft flex (X, F or M Diaman Red Board) and the golfer's action, enables the club to be matched perfectly with its owner, says Cobra, which also has a wide variety of custom shaft options available.

For further information on how to change the shaft, adjusting the face setting and ball flight and to view the full product specifications, visit www.cobragolf.co.uk .

*We want to know about the driver you currently carry in your bag - as well as the irons, hybrids, putter, balls, shoes and waterproofs. Submit auser review to WIN GREAT PRIZES EVERY MONTH and help other golfers make informed choices.

And if you've got equipment to buy or sell second hand or even swap you can do that too, in our new and improved classified/swap shop section.