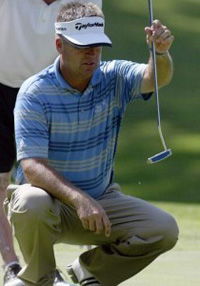 Kenny Perry with his Ping Craz-E putter
  When Kenny Perry tees up on Thursday at 7.36 alongside Greg Norman and England's Oliver Wilson, he'll have in his bag an old putter that has earned him over $5million in prize-money as well as a place on a winning US Ryder Cup team.
The battered Ping Craze-E putter was given to him by a fellow member of the Bent Pine Golf Club in Vero Beach, California who had fallen out of love with it and offered it to the Kentuckian to see if could cure his putting woes.
At last week's John Deere Classic, Perry revealed how he came to own the putter and how he paid back the debt to the member for the five wins on Tour he achieved using it.
"This old putter was all beat up and had a shredded grip on it, " Perry recalled. "You could tell the guy just completely wore it out and he just didn't like it anymore.
"I said, 'Sure, I'll take it.' and I threw it in the trunk of my car. I was putting poorly, so I put a grip on it and next thing you know I win three tournaments last summer, get in the Ryder Cup, win the Shark Shootout and two tournaments this year."
Later, Perry was at the Bent Pine snack bar when he spotted a sandwich waiting for Paul Hargarten, who'd given him the putter. He paid for the food and wrote,'Paul, now we're even' on the styrofoam container.
"He comes over to me, and he holds it right in front of me, and he says, 'Now, does this look like $5 million?'"
Fair point, Perry agreed. So to show his appreciation, he arranged a "Paul Hargarten Day" at the golf club and presented Hargarten with a gold replica of the putter that Ping awarded Perry for one of his recent wins.
"It's been pretty amazing what I've done with that putter," said Perry, who has jumped from No.14 to No.4 in the world in the last six months.
Tell us on the forum about your favourite putter, how long you've had it and what story is attached to it.

---

Win Glenmuir Gear
What's in your bag?
For a chance to win golf-gear from the latest Glenmuir range, tell us about the equipment in your bag. Submit a comprehensive review - from balls to drivers, golf gloves to sets of irons, shoes to powered trolleys - and give it a rating.
At the end of August '09, we'll assess the entries and award a Glenmuir Performance Hi-Cool shirt, a Glenmuir Storm-Bloc vest and a distinctive Glenmuir cap to 3 worthy winners.
To submit a review CLICK HERE
---