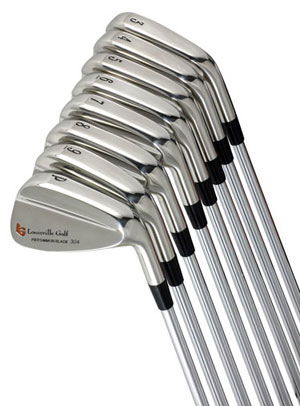 Louisville Golf's Persimmon 304 blades
Since 1974 Louisville Golf in Kentucky, has been making persimmon-head golf clubs - woods and putters - in a successful bid to keep alive that distinctive feel of Surlyn on polished wood and to provide a service to golfers looking for a distinctive, traditional gift.
It has turned heads, literally, by turning wood into quality drivers and putters, transforming felled timber into artful pieces of golf weaponry.
Now the company is diversifying into sets of irons and wedges and reckons its new Persimmon Blade 304 clubs - though made of stainless steel and larger than a traditional blade - will generate the feel of its persimmon-headed products.
Says Louisville's Josh Fischer: "The difference between all game-improvement irons and our Persimmon 304 game-improvement blade is fundamental - one is a crutch, rewarding swings that do not deserve rewarding, while the other improves ball striking by instant feedback, allowing the golfer to develop the skill of hitting irons purely. In the long run, this is the way to become a better golfer.
"One turns a bad swing into an acceptable outcome, but does not provide the precision to consistently hit your target," he claims.
"With our Persimmon Blade 304 irons, the golfer gets enough feedback to know the difference between a good and poorly struck shot, while also providing the feel and playability only a blade can give you."
Strong words but is he over-simplyifying the difference in performance. Tell us on the forum how you have handled a bladed club in comparison to one that's perimeter weighted. Describe the difference in feel and feedback, precision against forgiveness.
For further information about Louisville Golf's Persimmon 304 blade visit www.louisvillegolf.com
From April, they will be priced around £600 plus shipping, for 4-iron to sand wedge (steel shafts).