A new range of equipment under the Jack Nicklaus brand is set to emerge from the Florida company headed for the UK market, led by the latest Q4 driver with the now, almost obligatory adjustable weighting system.
Irons, hybrids and fairway metals – all with similar weight options to suit a range of golf swings – are set to follow shortly and at affordable prices, says the Nicklaus European distributor Paul Hendry.
The new products are set to complement already established Nicklaus Premium and Golden Bear equipment lines.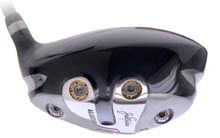 The Nicklaus Q4 driver
The 440cc Q4 driver allows golfers to customise and fine-tune the club with a six-option quad weighting system, including a tool kit. Nicklaus claims 'advanced ball velocity from a high COR clubface' and a grafalloy shaft engineered exclusively by Nicklaus for the UK market.
The driver will be available in 9, 10.5 and 12-degree lofts with a matching headcover at a recommended price of £129 (E179).
Says Hendry: "We're offering new technology that won't break the bank, for golfers who might typically need this kind of technology for his or her game."