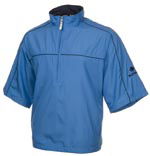 Sunice Lucknow windshirt
A collection of colourful Sunice windshirts are being launched by USP Brands, the Leeds-based distributors of Progen, Fazer and Ogio golf clubs and bags.
Sunice was introduced last year and now its 2006 collection of men's and women's clothing is expected to turn a few heads on the UK and European courses.
Fabrics are reported to be windproof, breathable, lightweight and noiseless with striking colours including flame, tangerine and pink pepper.
In the men's range the Melton windshirt (£50) features a lycra stretch fabric and storm flap, while the Lucknow short sleeve half-zip windshirt (£37) is light, breathable and water repellant with reinforced shoulders. Similarly the Tyrall top (£40) with raglan sleeves.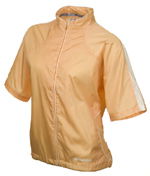 Sunita women's windshirt
The women's collection, includes the Betty half zip (£40) windshirt and Sunita (£37) lightweight short-sleeved model.
For your nearest stockist call 0113 387 7710 or visit www.sunice.com
Callaway Golf apparel's Spring and Summer range also features windshirts from £40 in its ranges for men and women, complementing the equipment brand's latest X-Factor hardware launches with X Series tops and trousers in fresh shades of blue and yellow, alongside black and snow white.
Sport Classics has shirts (from £30) in blues, black, whites and greys, Restoration includes tops in bright shades of blues and coral while New Car Red reflects vibrant big red, orange peel, blues, whites and multi-coloured fabrics. Pacifica is a selection of tops in blues, greens and whites.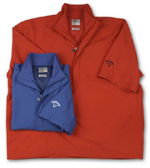 Callaway New Car Red collection




Seasonal Classics is a collection of cashmere crew sweaters (from £100) in tones of yellow, green, blue and black, while Lambswool (sweaters from £46) include shades of grey and dark berry. Black Eye features tops in classic blacks, Riviera favours blues, greens and reds. and Windward greens, reds and yellows.

An extended collection for women features Sunday AM (tops and jackets in red, white and black), Marbella (shorts, skorts and jersey's in champagne pink and lilac) and Costa Rica and Resort (sweaters and jackets in green and white tones).


For your nearest stockist call 08701 666555 or visit www.callawaygolfapparel.com.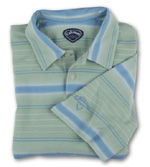 Latest Callaway polos favour pale shades and stripes
*Tell us about the golf clothing you wear - as well as the shoes and waterproofs– by submitting a user review
And if you've got equipment to buy or sell second hand you can do that too, in our popular classified section.