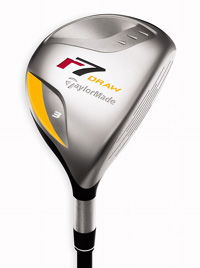 TaylorMade r7 Draw fairway metal'>


r7 Draw fairway metal



While more than eight out of ten golfers hit our shots with a slice or, at best, a weak fade (left to right ball flight), most of us aspire to hit the ball straight or, ideally, with a touch of right to left flight – known in the trade as 'a draw'.
We like this shape of shot because it tends to introduce 'draw spin' which encourages the ball to get more roll – and therefore more distance.
It has taken a while, what with anti-slice, offset and toed in clubheads, but TaylorMade has finally decided that the way forward is to produce clubs with draw bias built in.
As one of the first to introduce 'moveable weight technology', TaylorMade enabled the users of its clubs to switch different weight cartridges around the clubheads with a wrench to obtain the preferred ball flight.
This was ideal for the pros to take advantage of the different conditions they face on Tour but for the average club handicapper it, perhaps, made the game a little too complicated.
So following the introduction of the r7 460 Draw driver this month, TaylorMade is now extending its built-in draw technology to its latest r7 fairway metals, rescue clubs and irons.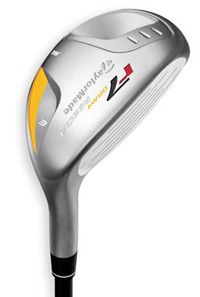 r7 Draw rescue - bigger than most hybrids




The r7 Draw fairway woods feature steel clubheads that incorporate a sole channel near the toe that pushes weight toward the heel in order to pull the centre of gravity back and closer to the shaft, making it easier to rotate the clubface in the throughswing to either hit a draw or straighten a slice.

TaylorMade also claims that, combined with a shallow clubface, this promotes a higher launch-angle and spin-rate for high-flying shots that stay in the air for a long time and land softly.

As for the r7 Draw Rescue, the first thing you notice is a clubhead that's bigger than most hybrids – indeed 12 per-cent larger than the TaylorMade Rescue Dual or Rescue Mid, and with more weight in the heel, squaring the clubface at impact is made easier.

This, says TaylorMade, also promotes both a higher ball flight and a right-to-left shot shape (for right-handed golfers), further aided by its tip-soft shafts.

Maximum offset, keeping the leading edge of the clubface behind the front of the hosel and more weight re-poisitioned in the heel are the key factors in the new r7 Draw iron.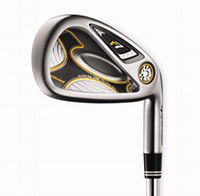 R7 Draw iron head




The club, says TaylorMade, has also been engineered slightly larger, not only to promote a draw but also to increase a player's average ball speed for greater distance.

A thinner clubface and deep cavity also pulls the centre of gravity back in the clubhead to encourage a high launch angle, while the wide sole reduces the risk of hitting shots 'fat'.

Says TaylorMade's Sean Toulon: "We analysed the swings of thousands of players and found that at least 50% of golfers need help hitting a draw. We're confident that the new the r7 Draw clubs will make the game a lot more fun for a lot of players. Golfers won't have to change their swing, just let draw-weighted technology take over."

The r7 Draw fairway woods are available in 3-, 5-, and 7-woods at a recommended retail price of £129 (graphite shaft) and £119 (steel). The r7 Draw Rescue hybrids are available in 3-, 4-, 5-, and 6-wood versions for £119 (graphite) and £109 (steel).

Available in sets of 3-iron to sand wedge, the r7 Draw irons have a recommended price of £549 (graphite) and £499 (steel). r7 Draw fairway and rescue clubs will be available from November and for the r7 Draw irons, it's December.