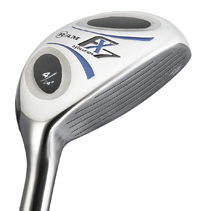 Ram to the rescue!
Hot on the heels of its FX7 Evolution combo irons, Ram golf is introducing a range of FX7 Recovery clubs - with a choice of upto four lofts.
Hard-to-hit long irons have long been a golfer's achilles heel but these have literally come to the rescue says Ram, with a high-quality, affordable option for just £39.99. The makers claim it's packed with features to help the golfer get the ball airborne and will inspire confidence from tee, fairway or rough.
A scoop-back design allows weight to be redistributed throughout the head and to create a larger hitting area. Combined with a stainless steel body and square face alignment, it's specifically designed to play recovery shots from a variety of different lies, with graphite shaft as standard to help generate a higher clubhead speed and penetrating flight.
The FX7 Recovery is available 16, 18, 21, and 24-degree lofts for right-handers preferring a regular shaft (but not in 24-degree stiff). The lower lofts are available for left-handers. A women's model with a more flexible shaft is available for right-handers only in 24, 26 and 28-degree lofts.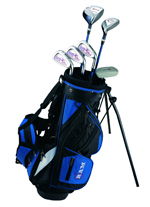 9-piece Ram junior set




If you're looking for a Christmas gift to get a young relative on the road to golf, Ram has introduced the V-Force junior set for £69.99. It comprises comprises a 3-wood (with headcover), 24-degree rescue, 5-, 7- and 9-iron and heel-to-toe weighted Ram putter with Tour wrap grip.

The package also includes a lightweight stand bag (black/blue) with dual strap, bag towel and a dozen Ram Tour spin golf balls. It's available for either 5-8 years or 9-12 years, the older group have a left-hand option.

*Have you got rescue clubs in your bag? If so, we want to know about them - as well as the woods, irons, balls, shoes and waterproofs you use. Submit auser review for the chance to win the latest T-7 driver from Joihn letters before the end of November.

And if you've got equipment to buy or sell second hand you can do that too, in our popularclassified section.