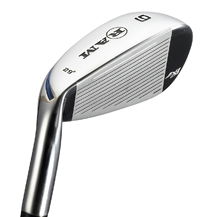 Ram FX7 hybrids replace 5- and 6-iron
Ram Golf is launching 'easy-to-hit' FX7 Evolution Combo clubs for golfers demanding maximum forgiveness and who struggle getting traditional 3- and 4-irons airborne.
These longer irons have been replaced in the set by confidence-inspiring, rescue-style clubs which take the worry and the difficulty out of hitting less-lofted irons. And in place of the medium 5- and 6-irons are 'transitional hybrid' clubs to deliver higher trajectory shots for approaches around the 140 to 160-yard range.
The Combo set also comprises five other shorter clubs ( 7-, 8- and 9-iron , pitching wedge and sand iron) with deep cavity backs and TrueTemper shafts, which provide high launch trajectory and forgiveness on off-centre hits for a variety of lies.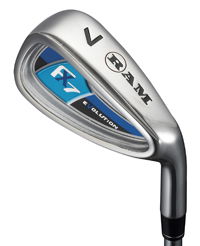 FX7 iron




Ram Golf's Graeme Stevens says: "The FX7 Evolution Combo Set has been specifically designed to give golfers a helping hand from a range of situations on the course.The shorter irons are incredibly forgiving, with wide soles and the recovery and hybrid clubs are much easier to hit than long irons, especially from the rough.

The FX7 Evolution Combo set is available in men's right and left hand options for £199 (steel shafts) and £249 (graphite). The women's option is right hand only (£249 graphite).

*We want to know about the clubs in your bag - as well as the balls, shoes, waterproofs. Submit auser review for the chance to win prizes every month.

Golfmagic has over 3,000 items of equipment reviewed within its system, many of which golfers use to consider their purchases. Most, too, can be bought from our shopping partners, which are listed on the left-hand side of every page.

And if you've got equipment to buy or sell second hand you can do that too, in our popularclassified section.