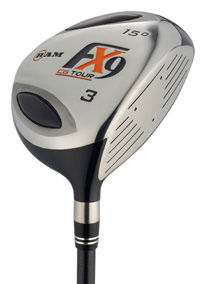 Ram FX9 Tour 3-wood
While the emergence of the fashionable rescue and utility club continues to tick most boxes for the club golfer, there's still a key place in the bag for the fairway metal – for those shots that demand accuracy and distance off the tee and a little more flight penetration in windy conditions.
And following the launch of its new flagship driver, the FX9 CG Tour Ti, Ram Golf is unveiling five lofted woods under £60 each, to compliment its big stick.
Ram says its engineers have improve the clubs' weight placement with a lightweight carbon-graphite crown to lower the centre of gravity (CG) in the head and promote more stability at impact.
In addition, says Ram 'a sleek, sculptured sole design minimises turf-resistance, a forged steel face delivers Dynamic Face Impact (DFI) and a ProLite Elite grafalloy shaft enhances workability and control.'
Ram adds that it has also considered the demands and specific swing characteristics of women golfers, with the combination of a compact clubhead and special grafalloy shaft to generate faster swing speeds and more distance.
The FX9 CG Tour fairway metals will be available in 3+, 3-, 5-, 7- and 9-wood (women) options (also right and left-handed) with the choice of regular or stiff grafalloy shafts. Suggested retail price will be £59.99.
For your nearest stockist visit Ram Golf's newly-installed website or call 01895 813 613.