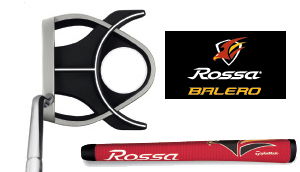 The new Rossa Monza Spider Balero putter and grip
The Monza Spider Bolero is the latest addition to the TaylorMade Rossa Monza family of putters. It's a large mallet-headed club which the makers claim is 'dramatically easier' to aim correctly.
It looks to have taken the idea of the ball image behind the head, originally developed by Odyssey White Hot Two-ball putter in 2002 and the Zen Oracle Tour putter in 2004 to a new level.
The Rossa Monza Spider Bolero will be available from May 21, priced £129 and features a prominent 'ball-in-cup' look in the back of the head to provide a visual clue to setting the clubface to strike the ballon the intended target line.
Says Rossa's Bill Price: "We spend a lot of time studying putting and the reasons why most average golfers don't putt as well as Tour pros. In one in-depth analysis, we focussed on putts of 14 feet and less - a range of distance where pros convert a relatively high percentage but amateurs don't. According to our data, the amateur aims the putterface poorly 64% of the time, which means they mis-aim twice in every three putts."
He says the Monza Spider Balero's head was designed to be extremely easy to aim and the image of the ball resting in front of the clubface works in conjunction with the white line on Balero's crown and the round hole through the back to help simplify the act of starting the ball rolling on the exact line you've chosen.
And he claims the ball-in-cup feature serves another positive function - reinforcing the image of a ball striking the centre of the back lip of the cup and promoting a positive strike on short putts.