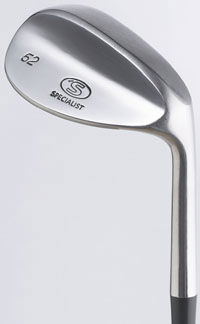 Specialist golf wedge
Because it is used for around 45 per-cent of the shots on your scorecard, many will tell you that the putter is the most important club in your golf bag. However, experienced golfers reckon it's the wedge.
And they could be right. Seventy per-cent of your golf game is played within 120 yards of the hole, so the wedge, in its range of forms – pitching, gap, sand and lob wedge – takes on a key importance.
And currently making a big impression in the competitive field of wedge manufacturer is Specialist Golf in Romford, Essex, where technical director Peter Simmonds was a pupil of legendary club-maker and craftsman Eddie Whitcombe.
Simmonds has extended the tradition with a new range of hand-forged clubs, currently being used by former US Women's Open winner Alison Nicholas and 2002 French Open champion Malcolm Mackenzie.
The clubheads of the five Specialist models (from 48 to 60 degree lofts) and including a 56-degree sand wedge with 12 degrees of bounce, have been designed without offset to make the leading edge appear more in front. And with the toe rounded, it allows shots to be played more easily with an open club face.
The longer tapered hosel increases weight in the heel to help prevent the clubhead closing at impact with hand forged carbon steel providing better feel and the milled face, more consistency.
Says Mackenzie: "Specialist wedges work, without question. The feel and consistency is unlike anything I have experienced in 21 years on Tour."
Price for a standard specification model customised for the individual is £109. For an individually model to specific loft and bounce, the price is £149.
For further information call 01708 378530 or visit www.specialistgolf.co.uk