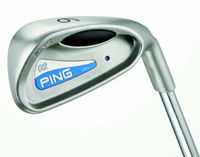 Distinctive Ping G2 iron.
Hot on the heels of its S59 blade irons launched at Loch Lomond recently, Ping has introduced the G2 series of irons for higher handicap golfers keen to match clubs to their ability.
These game improvement clubs compliment the i3+ irons launched last year to appeal to a wider range of golfers who still like the affordability of building a set.
The G2 clubs contain Ping technology in multiple choices, making them so versatile you can build a set from scratch to suit your own style of play. Says Ping chairman John Solheim: "These clubs are extremely forgiving, launch the ball higher and feel fantastic. And golfers can choose the set make-up that meets their needs."
Stainless steel and perimeter weighted, the iron consists of three set options and the HL (High Launch) long irons designed as replacements in all three sets.
Options are:
G2: Larger head, available in 3-9, PW, SW, LW, featuring centre of gravity moved away from the face, a wider sole for improved launch and more forgiveness. Standard CS Lite shaft.
G2EZ: Designed for golfers with slower swing speeds. Available in 7- to 9-iron, PW, SW, LW, the G2 EZ. This six club set features larger loft differentials to provide meaningful distance gaps between each iron.
G2L: Aimed at women golfers with slower swing speeds. Features same loft differentials as the G2EZ in the six-club set but distinguished by the TFC Ladies graphite shaft and a 10 per-cent overall weight reduction.
G2HL: These high launch clubs are available in 2-5 iron, designed for golfers looking for easy to hit long irons. Extra-wide sole offers less digging into turf at impact. Centre of gravity moved away from the clubface gets the ball airborne sooner. G2HL irons will also be sold separately.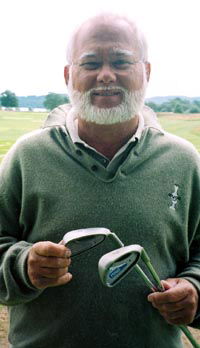 Solheim with G2 irons.
The multiple options within the G2 Series and the G2 HL long irons allow golfers to build a set that fits their game. Standard set packages features G2 Traditional (G2 3-9 iron, PW, SW), G2 Combo (G2HL3- to 5-iron, G2 6- to9- iron, PW, SW), G2 EZ (G2 HL 4- to 5-iron, G2EZ 7- to 9-iron, PW, SW), G2 Ladies (G2 HL 4- to 5- iron, G2L 7- to 9- iron, PW, SW) and G2 HL only (G2HL 2- to 5- iron).
"Fitting continues to be a key part of the buying process," says Solheim, "and with our flexibility of set make-up another dimension is added to club fitting. We want golfers to get a set of irons that improves their enjoyment of the game."
Cost of the Ping G2, G2EZ and G2 HL irons is £84 per club with a steel shaft and £102 with graphite. Suggested price for G2 Ladies, £102 per club fitted with graphite shafts.