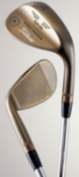 Vokey Oil Can wedges.




As visitors to this site will know, I'm not a great fan of the look of modern wedges which have a certain rustic appeal to some players. While it's claimed their performance improves in terms of grip, the ageing process is about as attractive as a rusty nail used as a coat peg.

Bob Vokey, a master craftsman synonymous with the brand of scoring clubs used by many leading players, has now developed a set of wedges – the Titleist Vokey Design Oil Can Series – which he claims will wear more consistently and not look so much like an ugly sister in a bag of shiny Cinderellas.

"The Oil Can series comes directly from several years of experimenting with different oxidised finishes on the PGA Tour, " says Vokey, who's director of wedge development at Titleist.

"The finish gives a softer, more muted look to complement the traditional chrome appearance. The darker finish also makes the club look slightly more compact at address, for added confidence."

Titleist claims its unique heated oxide treatment gives 'pre-aged' look while creating the same soft feel and spin characteristics previously found in Vokey Raw wedges.

The new wedges will be available from January in a range of lofts and sole shapes, from around £95. Contact 01480 301114 for your nearest stockist.