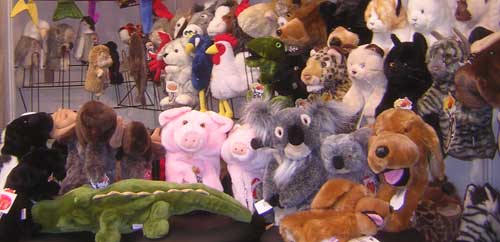 Headcovers by Daphne - but there always a wide variety
A is for ...Animal headcovers. I've got a dachsund on my current favourite driver, which I got from Daphne's Headcovers in the US. but for under £20 you can pick up a wide range from your local pro shop or golf discount centre - including koala bear, pig, crocodile, chicken, elephant, lion and the inevitable tiger.
B is for ... Balls. Most club golfers would settle for a dozen of anything but the usual yardstick is, the better the player the high the price. Most of us would accept a box of Top-Flite or Pinnacles at around £12 - £15 while Titleist, Callaway or TaylorMade balls would set you back around £40 for a dozen.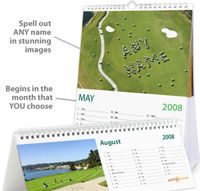 Unique calendar which you can individual personalise on 12 images
C is for ... Calendar. I was recently sent a superb personalised calendar by from www.gettingpersonal.co.uk, identifying 12 different golf images for every month and my name subtly used on each one - etched in sand, on a snow scene, in autumn leaves, the head of a club and even in trees on an aerial view of a course. Even at £14.95 it's a novel and valued gift.
D is for ... Driver. Never been a better time to invest in the longest club in your bag now that over 300 models become illegal and obsolete from January 1. But make sure you get it custom-fitted to suit your size and your swing. You can pick up a good new one up for as little as £99. Alternatively get an elite brand (e.g. Callaway, TaylorMade, Ping, Titleist, Mizuno, Cobra, Cleveland, Wilson Staff or Yonex) for around £200
E is for ... E-Bay. It's like an on-line car boot sale where you can pick up some tremendous bargains. The big fear is that with buying unseen and untried, everything in golf equipment may not be quite as it seems and with few items guaranteed or traceable there's a high risk factor. However there are many satisfied customers, especially those buying 'as new' soft goods like clothing, golf bags and accessories.
F is for ... Fashionable. Nowhere else in sport does clothing set trends like golf wear. Pro golfers - men and women - provide a shop window for cool clothing that can be worn on and off the course. colourful, modern cardigans, tank tops and military-style caps owe their popularity to being seen first on the fairways. Even the UK is becoming less traditional in its outfits with jeans-stitch trousers soon to be accepted.
G is for ... Golf bags. The explosion in golf bag colours and technology has been remarkable. While carry bags and stand bags are the cheapest option (between £30 and £80), more rigid and substantial trolley or cart bags (£50 - £120) are becoming more popular with the increase in electric trolleys. The latest are distinctively branded and colour-co-ordinated with vast zip pockets and extra features for drinks, valuables, your putter and even your sunglasses.
H is for ... Hybrids. These small-headed versatile 'rescue-style' clubs are replacing hard-to-hit 2-, 3- and 4-irons irons and are a 21-st century golf phenomenon. More than half the pros on Tour (excluding Tiger Woods, incidentally) now carry at least one in their bag. Moderately-priced between £40 and £120 models with various lofts between 18 and 27-degrees will help club golfers hit more long par-3s and help recover from semi-rough lies.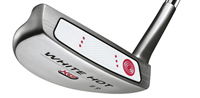 Odyssey White Hot insert face putter
I is for ... Insert face. Almost every putter you see wielded in the hands of pros on Tour has an insert face - whether made of polymer or milled steel. The idea is to give feel and feedback from the ball. The less-metallic feel it generates also helps the ball stick to the face, longer and set it rolling more truly towards its target. Pay between £40 and £200 for a putter with an insert-face
J is for ... Juniors. Almost every manufacturer includes in its range, equipment for junior golfers. Most provide starter box sets for kids between the aged of six and 12 including metal wood, three separately-lofted irons, a putter and a bag. It's a great way to introduce them to the game for under £100.
K is for ... Keeping fit for golf. One of the best books and DVD combinations is produced by Chic Carvell featuring fellow Swindon native David Howell, the Ryder Cup player. The Chartex system provides an excellent routine for golfers looking for more flexibility and stamina.
L is for ... Left-handers. Though I'm among the 10-15 per-cent of the world population who are naturally left-handed play the game right handed. Apparently it's way you visualise the ball leaving your body - that determines which side of the ball to stand. However, while only a tiny minority of golfers play the game left-handed - about six per-cent- they are discriminated against in terms of product choice and availability. Here's a useful contact that can help if your looking for left-handed equipment.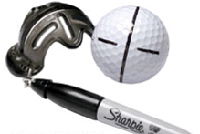 Marker tool - stencil and pen.
M is for ... Marker set. If you're stuck for a useful gift for a golfer and don't want to spend under a tenner you could buy him or her a Line-M-Up golf ball marker set with a Sharpie pen included for £7.95. This puts a line on the ball to help line-up puts and also helps personalise your ball to avoid confusion. Most pro shops also stock marker stencil and pens separately.
N is for ... No smoking. Here's a novel idea for those still smoking on and off the golf course to get rid of unwanted cigarette butts, while avoiding anti-litter fines. The Stubbi golf cigarette pouch (£1.20 including postage) was first introduced in 2003 and has now been welcomed and accepted around the world.
O is for ... Open 2007 DVD. A permanent memory of Europe's first major title since of the 21st century when Padraig Harrington and Sergio Garcia went dramatically head-to-herad to claim the Open championship at Carnoustie. This DVD (recommended price £12.99) recalls the highlights of all four thrilling days.
P is for ... Practice aids. Golf has more gadgets than any other sport from cheap plastic airflow balls to allow you to hit full shots in the garden (69p for six) to a £379 Bushnell Pinseeker laser rangefinder. In between you'll find practice nets (£15.99), putting cup (£6.99) and swing and grip trainer (£19.99).
Q is for ... QLink pendants. If you believe in the power of mental strength and energy to deliver low scores - like Justin Rose, Ernie Els and Mark Calcavecchia - a Q Link pendant claims to help you focus while reducing stress levels. You can pay as little at £48.95 or as much as £199.95 depending on the material used.
R is for ... Reading material. At Christmas time the list of golf-related books provides great entertainment for the avid golfer. As well as those already recommended, consider the beautifully illustrated coffee table tome 'Journey Through the Links' by David Worley(Aurum Press £30), 'A swing you can trust' by Roberto Borgatti (Simon an Schuster £18.99), 'Murphy's Laws of golf 'by Henry Beard (GMC Books, £5.99) and Dom Joly's 'Letters to my golf club' (Bantam Press, £9.99).
S is for ... Shopping online. Check out any of our shopping partners on the left-hand side of Golfmagic.com pages and you'll find a wide range of golf gifts, including BackTee and Green Lamb clothing from Golf Garb, women's clothing from Lady Golfers and Bunker Mentality Golf. You'll also find a variety of equipment at Direct Golf's current clearance sale.
T is for ... Trollies. Less than five years ago it was only pensioners, women and the injured or infirm golfers who used an electric trolley. Today they're the rule rather than the exception at any golf course with leading brands like PowaKaddy and HillBilly joined by the likes of Motocaddy, Stewart Golf and GoKart vying for the lions share of this burgeoning market where even youngsters are looking for an edge that carrying their own clubs doesn't give them.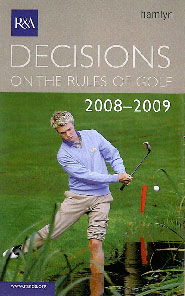 Bedtime reading - the R&A's decisions book
U is for ... Understanding the Rules of Golf. One of the best investments you can make - and essential bedtime reading - are two new books. 'Decisions on the Rules of Golf' and 'Rules of Golf illustrated 2008' are both available from the R&A website, priced £14.99. You should also be able to receive a free copy of the Rules of Golf from your local club or by contacting the R&A.
V is for ... Value for money. My advice is always to go for quality when buying golf equipment rather than plumping for the bargain basement option. Not only should you receive build quality guarantees it also gives you the opportunity to upgrade and part-exchange when new models come on the market.
W is for ... Waterproofs. The range of weatherwear available to golfers is outstanding and it's designed in such a way that it looks cool as leisurewear away from the course, too. Leading brands like Galvin Green, FootJoy Red Label, Sunderland of Scotland, Ping collection and ProQuip are really stretching the boundaries of wet weather gear wqhich is available at most golf outlets from £50 for alightweight wind top to £300 for top of the range waterproof suit.
X is for ... Xmas factor. Bear in mind that not every gift you'll get this Christmas will be quite what you'd hoped for. I'm still getting a regular supply of short plastic tees (ugh!) and golf ball soap-on-a rope (aaah!) from favourite aunts when really I'd prefer some golf socks and some hankies illustrated with a golfer!
Y is for ... Yellow balls. As a self-confessed ball snob I refuse to play with anything other than white golf balls. However, the yellow ball is a handy purchase, especially for those who play some of their golf during the winter months, when frosty fairways can obscure your search. You can pick up a dozen for between £5 and £15

Z is for ... Zen Oracle putters. Always been a big fan of the innovative 'hole-in -the-head Zen Oracle brand, used by Steve Webster in October to win the Portugal Masters. The RDE model expensive at £189 but the Tour version at £99 is well worth a seasonal investment as a combination of putter and putting aid.

Tell us on the forum what presents you're expecting for Christmas, what you've had in the past - the good, the bad and the ugly.