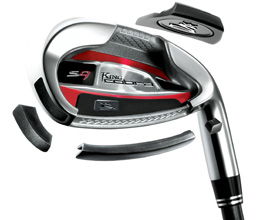 King Cobra S9 exploded view shows how polymer is used in the new head
Cobra Golf has refined the S9 and FP irons it launched last February, with a new look and introduced new materials to make them even more playable.
I tried out the new King Cobra clubs when they were unveiled to the media at Vilamoura in Portugal last week and although it demanded playing into a stiff breeze on the Pinhal range, the experience was enough to discover a solid feel and improved performance from both sets of irons.
Cobra engineers have introduced a distinctive black, lightweight polymer to the S9 irons which they tell me helps re-distribute weight within the clubhead.
This, they say, has allowed engineers to introduce a lower centre of gravity into the heel and toe to keep the head square at impact, deliver a better ball trajectory and offer a more forgiving feel.
I was immediately struck by the thick black topline which generates confidence and combined with the wide sole and low profile made the club's feel far more pleasing than many of its modern contemporaries.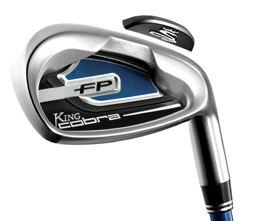 Cobra FP iron with cavity back plate membrane




The King Cobra S9 set includes 4-iron to gap wedge and will sell for £438 (steel) and £553 (graphite). The new S9 irons will also be available for Seniors and women for £553 (graphite) from 5-iron to gap wedge.

The re-engineered FP irons don't have as much black polymer visible in the head which is sleeker but has a cavity backed plate with a urethane membrane to help deliver the feel that Cobra golfers demand.

Sets are available from 4-iron to gap wedge for £346 (steel) and £415 (graphite) with senior and women's versions (5-GW) selling at £415 (graphite).

Cobra is embarking on a series of 400 demo days between March and July around the UK. Don't miss the chance to find one near you.