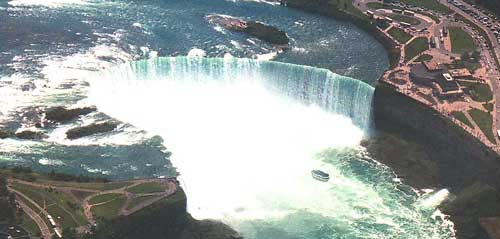 Horseshoe Falls over the Niagara River
A Canadian entrepreneur is hoping to set up a contest in which the world's longest drivers try to smash a golf ball over the Niagara River at the world famous Horseshoe Falls.
Gary Nickerson, a 61-year-old who claims he can hit a ball over 300 yards, aims to gather the world's best strikers to attempt the feat for the chance to claim a huge cash bonus and raise money for charity.
Double major champion John Daly attempted the feat in April 2005 as part of a publicity stunt to promote the nearby Thundering Waters golf resort but narrowly failed.
"They've gone over in a barrel. They've gone over on a cable. Now we're going to go over with a golf ball," says Nickerson who aims to call his event 'Drive the Falls', with proceeds going to a local hospital charity.
Daly, nicknamed 'Long John' because of his ability to hit crushing drives, hit balls from a specially erected platform at Table Rock to the Goat Island state park on the New York side of the Horseshoe Falls - a distance of 342 yards.
Daly explained after one attempt. I've killed a bunch of shots and I'm trying to get the ball higher to clear the mist."
One on-looker claimed several Daly drives peppered the sheer rock face a few feet from the summit but the fickle mist and wind conditions over the mighty falls robbed him of the extra yards he needed to clear the chasm.
However, with new club, shaft and ball technology, Nickerson is confidence that if the world's longest drivers take up the challenge in the right conditions next Spring, the unique feat can be achieved.
Tell us on the forum what distances you've hit golf balls.