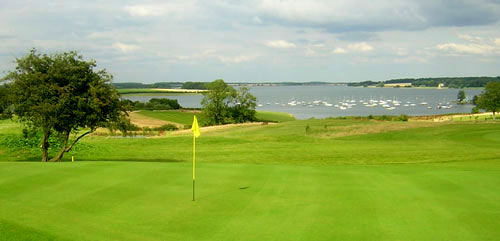 Spectacular views from the 16th hole
Young, modern golfers keen to make their mark in the game will tell you they aspire to be like Tiger Woods, Phill Mickelson, Padraig Harrington or Luke Donald.
Ben Stephens, 30-year-old five handicapper and qualified architect, is different. His heroes may not be so familiar, though he is making a flying start in emulating the likes of James Braid, Alister Mackenzie, Pete Dye and Tom Doak, recognised by fellow students of the history of the game as among the world's finest course designers.
In his creation of the recently-opened back nine of the Normanton course at Rutland Water Golf Course, Ben says he has been influenced by studying the philosophies of some of the great designers of the 20th and 21st century, some of whom's work he has integrated into his layout which spectacularly overlooks Europe's largest man-made reservoir which dominates England's smallest county.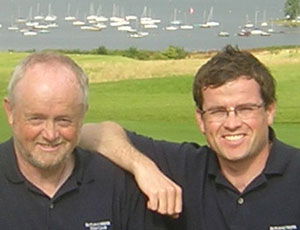 Ben Stephens (right) with his father Peter




He hopes, that at 6,288 yards (par 72), he has designed a course which is quite unique in the UK, influenced by his love of links golf - as a student at Dundee University he played Carnoustie many times - and to encourage golfers to put more emphasis on course management.

"I like the idea that golfers have to think their way round, try to place their ball in position off the tee - not always reaching for their driver but instead taking a 3-wood or even an iron to make the approach to the green more accessible," says Ben, who also re-modelled and created the extension of nearby Greetham Valley Hotel and Country Club from 27 to 36 holes while he was still a student.

He has also introduced some risk and reward holes at Rutland Water that give the opportunity for the bigger hitter to go for the green while the more cautious can go for their par by laying up and relying on a neat short game.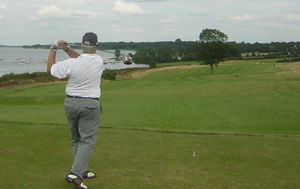 Some great driving holes like the 13th




The 15th and 16th are typical examples with the greens positioned to make them more shallow, at an angle to the fairway and crowned to ensure only the perfect approach shot gives the opportunity for birdie or to save par.

Signature hole is the 17th - a domed 171-yard par-3 played across the prevailing westerly wind that tends to blow down the reservoir with a bunker on the left shaped like lake's distinctive aerial landmark on our nightly weather maps.

Ben recalls with a cheeky grin: "When Steve Makey, the course owner, asked me to design the back nine, he insisted I should have no more than 24 bunkers and I kept my word. Infact, there are only 23. However, he didn't stipulate how big they could be so there are one or two that have a Pete Dye influence and are quite extensive."

Some members have allegedly complained that Ben's greens are too difficult to read with too many slopes and undulations resembling the rolling seaside links. Ben and his father Peter - a joint director of Ben Stephens Design - just smile.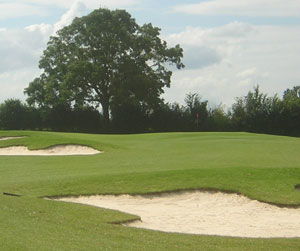 The 8th is influenced by North Berwick's 16th with its inverted saddle




Reaching the green is only half the game, says Ben, explaining that all the great courses have putting surfaces that are tough to read. He wants the golfer to be standing over a putt and still be unsure about the slope and the borrow.

"Members have to learn the subtle slopes and borrows," he says, adding that the project has been a massive learning curve for him, too.

I have watched the growth of the Rutland Water golf complex since its establishment as a 9-hole par-3 course, its extension to 12, re-modelling to 18 holes and finally to the emergence of the 27 holes it now offers. The par-3 has regained its individuality as The Hambleton and the par-72, 18-hole design stands alone as The Normanton - both named after nearby villages submerged when 3,100 acres of farmland were flooded to create the reservoir in the 1970s to supply water to the East Midlands.

Though the greens on this spectacularly-located course - surely one which provides some of the finest views in England - are still immature in terms of settlement, they provide a test that few inland courses can match.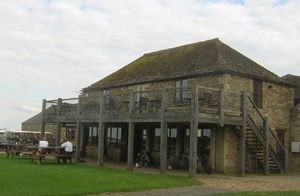 The rustic clubhouse is warm and welcoming




Putting is a game within a game and on the Normanton course, only the best putters with a good memory will prevail, with double and even triple breakers guaranteed to have visitors scratching their heads.

My only concern is that the greenkeepers can find enough pin positions not to make three-putting a formality and that the shallow peaks and troughs don't make cutting them lead to green speed inconsistency.

The course and the greens are a challenge set down by a young and talented designer well worth taking on if you can avoid letting your concentration be distracted by the stunning scenery.

Green fees at Rutland Water GC are £17 for 18 holes in midweek (£20 at weekends). The Hambleton par-3 course costs £6 (£7). The course has a cosy, wooden-built clubhouse and bar where snack meals are served and a well stocked pro shop run by PGA pro John Pengelly (Tel: 01572 737525).

Tell us on the forum the course you favour for its spectacular views.