The PING Story: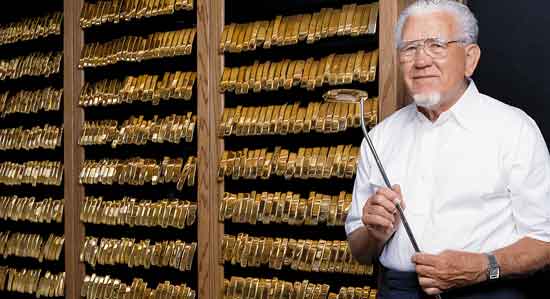 The late Karsten Solheim with a store of gold-plated Ping putters commemorating every professional tournament victory
The Ping brand of golf equipment celebrates 50 years of innovation in golf in 2009 - including concepts such as investment casting, heel-toe balance, perimeter club weighting, custom fitting, cavity back design and the famous Ping Anser putter.
Almost every modern golfing legend has used Ping equipment at some stage in their career and the Solheim family, the founders of the company, still retain their attachment to the brand, which has become iconic among amateur golfers the world over.
In this short series we trace the company's history and recall some of the key moments when the innovators took golf equipment to the next level.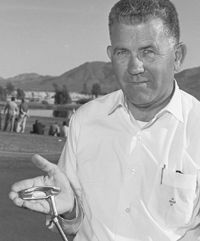 Kasrsten Solheim with the first Ping Anser putter in 1966.




IT ALL STARTED in Redwood City, California, in a garage of owned by Karsten and Louise Solheim where Karsten, a frustrated golfer, set out to design a putter to improve his own golf game.

He ended up revolutionising the golf industry while making the game easier and more enjoyable for all who played it. His posthumous election into the World Golf Hall of Fame in 2001 finally sealed the Norwegian-born engineer's 40-year career that earned the Ping brand a reputation for innovation, quality and service.

Today, based in the Phoenix, Arizona, more than 1,000 workers leave their mark on Ping products every day under the leadership of Chairman and chief executive John A. Solheim, the youngest son of Karsten and Louise.

It remains family-owned in its quest to develop the highest quality equipment with John, who collected his first pay cheque from his dad at the age of 15, sharing his late father's passion and understanding for engineering and precise manufacturing techniques.

The task of leading product development is in the hands John's eldest son, John Karsten Jr, who trailed his grandfather around the plant during breaks from school and witnessed the transition of product design process from hands on, keen-eyed craftsmanship into today's 3D modeling and super-computer technology.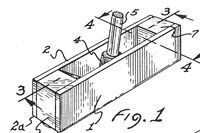 Early drawings of the first Ping A1 putter in 1959




John K Jr indeed gained an appreciation no textbook could ever provide and with that knowledge earned a mechanical engineering degree and Executive MBA which enabled him to assume his current role of vice-president of engineering leading a team more than 60 technicians and researchers at the plant.

What began as a quest by Karsten Solheim Sr to create a better putter to improve his own golf game, turned out to be the creation of one of the most successful companies in the history of golf.

"Never in my wildest dreams did I ever expect something like this," Solheim often said, describing his meteoric career rise from shoemaker to mechanical engineer and the founding of Karsten Manufacturing Corporation making clubs that millions of golfers would use.

Solheim's innovations can be found in virtually every putter on the market today, as well as in most popular sets of irons. It all started with his ringing P-I-NNNNNNNNNN-G putter that caught the fancy of golfers and first drew attention to his engineering genius.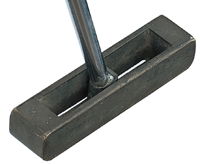 Protoype of the Ping A1 putter




"It seems like only yesterday that Karsten came running into our kitchen and exclaimed, 'I've got a name for my putter!'" recalls his widow Louise.

"I looked up and said, 'that's nice, honey,' but no bells rang. We ate our hamburgers and vegetables without any particular celebration," she says.

The next day Solheim tried out his putter on a local practice green and as people walked by they remarked on the 'ping' sound it made. They also spotted that he was holing more than his fair share of putts, achieved by maximising its weight distribution by making both ends of the putter head heavier. With less weight in the middle of the putter, there was less twisting when the ball was struck off-centre on the putter face.

It was the world's first heel-toe balanced putter changed the game of golf for ever.

On March 23, 1959, Solheim filed paperwork for his novel and improved putter head with the United States Patent Office but it was three years before he received Patent No. 3,042,405 for his 1-A putter.

Solheim had continued working by day as an engineer for General Electric and by night as a putter craftsman with sons Allan and John but when the pro tour came to town, Solheim spent endless hours encouraging top players to try his revolutionary putter.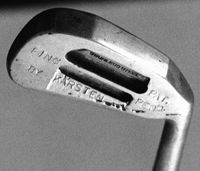 The first prototype of the Ping 69 cavity-back iron in 1961




In 1961 after moving to Phoenix, Solheim developed his first cavity-back forged iron, the Ping 69 which Allan milled. They realised that by distributing the weight to the extremities of the club, it increased the size of the sweetspot.

In 1966, after attending the Los Angeles Open, Karsten returned home and declared: "Louise, I've got to find an answer to those other companies' putters."

Soon, he had a design but needed a name so Louise suggested he called in 'the answer' but to drop the 'w' to make it shorter and easier to fit on the club head. So the 'Anser' putter would become the most popular in golf history and has since achieved more than 600 pro Tour wins among 2,400 pro wins by Ping putters worldwide.

Tell us on the forum about the Ping clubs - and especially putters - you own or have owned in the past.

Next time: The dawn of custom-fitting.