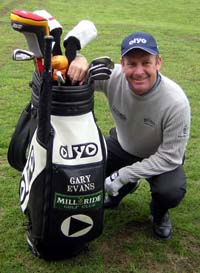 Gary Evans – Olyo backing
Gary Evans became a household name when he lost his ball in the rough at the 17th green while leading the 131st Open at Muirfield in 2002.
He had to trudge back up the fairway to replay another ball but scored a miraculous par with a 50-foot putt to keep his hopes alive, just missing a play-off spot in the Open which Ernie Els went on to win.
Another top ten finish at Royal St Georges in 2003 earned him exemption for this year's Open at Royal Troon and with a new sponsor in Olyo, the equipment makers, is looking forward to an even better season.
We caught up with Gary at a charity event at Elton Furze near Peterborough, which Olyo helped to organise.
You've had a disappointing start to the season. What has been the problem?
Yes, it has been disappointing. After the last two years (21st and 30th in the Volvo Order of Merit) my aim has been quite high but I've had a small shoulder injury which manifested itself in Australia earlier in the year.
I made the cut in the Dubai Classic but had to withdraw from Qatar and was diagnosed with wear and tear in the joints and had ten days off. I hit a lot of balls before the Portuguese Open at Pennina, but if you don't play you can't compete and I missed the cut. But I have four tournaments in a row starting with Seville and am hoping for better things.
Is the US Masters a goal for you?
Obviously having played in the US Open last year and finished in the top ten in the Open the last two years it would be a fantastic experience.
But the Masters is a law unto itself and a tougher nut to crack, just to get in. For us Europeans it's difficult because unless you win a couple of tournaments to raise your ranking high enough to get into World championship events, it's difficult to even move up the world rankings.
There were at least five guys in the top 75 you'll probably have never heard of who got in and it's a case of playing a lot of good golf in a short space of time.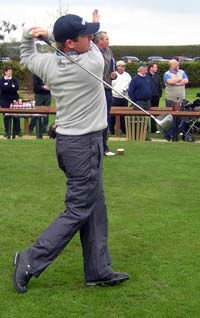 Stylish driver
What do you prefer, parkland or links?
Links, without doubt. I grew up on links courses around Worthing and you have to have imagination and the yardage book goes out the window.
You can hit a 3-iron 100 yards or a wedge 200 yards. Last year at Royal St Georges it was very dry and a bit of a joke, but I've learned to play those kind of courses and to deal with all the outside distractions.
What kind of distractions?
When you play in the Open all your friends call asking for tickets and before you know it, day one has arrived and you're not prepared for it.
Now, because I'm exempt and I've learned to deal with the off-course stuff – I can prepare properly and play a practice round at 6am and it leaves the rest of the day to work on my game and see my friends and relax.
What do you know of Royal Troon, where this year's Open will be held?
I played my first Open there in 1989 as an amateur. And I just hope the images this time are better than those I took away last time.
I remember distinctly my first practice round and the first time I walked on to the first tee, I was physically shaking from the pressure. I think I missed the cut by two shots.
The first hole is memorable in that it's nearly driveable, while the 18th is probably the scariest in golf. Thousands either side in huge grandstands as well as those at ground level around the green. It's like a tunnel and it looks impossible to find the green. It's scary but a great feeling. Gives you a hell of a buzz.
I played with Jeff Maggert last year and he swore he'd never come back and play an Open championship. He couldn't understand why I liked to play this kind of golf.
He hated the fact that the ball didn't finish where you hit it necessarily, fairways were often indistinguishable with no clear landing areas. But I love it, you have to feel your way round. It's a tragedy we don't play more links courses on Tour.
Where are the world's best courses., in your opinion?
The best courses anywhere in the world are in the sand belt of Melbourne in Australia where there are a dozen great courses within 25 minutes of the city. It's purely that most are 80-100 years old on great drainage and they're all natural.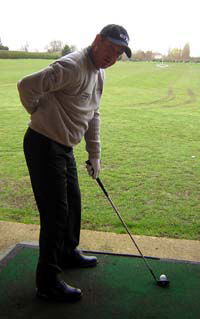 Posture at address is vital for amateurs
You play a lot of pro-ams with amateurs, what's their biggest fault?
Most mistakes are made at address. Most people are self-taught and don't approach a pro until they've been playing for two or three years. They'll get to a certain level, then someone has to almost make them worse before they get better.
If amateurs had the correct posture, alignment and address position from day one it would be hard to go wrong. Unless you stand correctly you're not going to get the consistency.
Since you've been on the European Tour, there have been big changes in equipment. What has been the major difference?
If you get the video tapes from the 1970s they were hitting the ball 270-280 yards with persimmon-headed clubs but clubs are of better quality now.
The big difference in pro golf is in the ball. The R&A, with the greatest respect, have been very slow in controlling the distances balls travel. I understand that until only recently, they were using a persimmon-headed driver in a robot with a 90mph clubhead speed for testing ball distances. All the top guys are swinging the club at least 100 mph and using titanium and all sorts of other composite metals.
When I first turned pro, 250 yards would be a good hit. now I'm averaging 285 and I'm 120th in the driving stats. It's sad because some quality courses are being taken apart.
What motivates you?
I look at my career and my life in different ways. After 13 years as a pro I can compete at the highest level. I've never lost my card and can pay my electric bill at the end of the month.
When I first came out on Tour, I broke my wrist and had three different specialist tell me I had tendonitis but I actually played for two years with a broken wrist. I had surgery and spent the next four years in the wilderness trying to build a swing around a new grip.
You could say that my original natural talent was taken away but in the last two years I've found a way to play with the grip I have.
This game is all about confidence. When you win it gives you confidence. When I was winning amateur golf I knew I was the best – I played Darren Clarke in the British Amateur the year I turned pro. He was plus four, I was plus two and I beat him 8&7. I won the Brabazon and Lytham Trophies.
Everything I did was of the highest quality. When you have that you have confidence, when you spend 13 years failing to win a pro event it's difficult to have the mind set to win. It's something that grows with time and in the last two years I've got myself into position to win tournaments and if I keep doing that it's only a matter of time before a door opens. That's my motivation.
You must have great memories from the 2003 Open at Muirfield, where you eventually finished in a tie for fifth place, just missing the four-man playoff?
I had putt to, what I thought at the time, was to win the Open. You have no idea what was going through my mind when I stood over that eight-foot putt.
It's what every boy dreams of. Every bit of my body was in pieces – just thinking of the rewards if I knocked it in. I'm not embarrassed about it because it's a fact.
When I came off that green I was in such a mess that I forgot to shake Scott Verplank's hand. It took me three minutes to get a pencil on the card to fill it in and I had to be led to the toilet by the head of the media centre and the R&A secretary. I was absolutely drained.
Then three or four players went past me in the scoring and I wasn't even required on the 18th green. But a lot of people have said that I made that tournament for them. It made my name again gave me the confidence to go out and start playing well again. And since then I've had something like 16 top tens on Tour which is more than anyone else in Europe.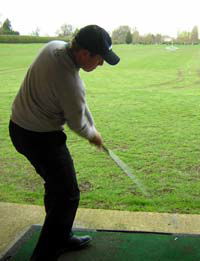 For my next trick!
As probably the longest serving player on the European Tour without a win, can you still get that elusive victory?
Definitely and in the end it will be probably an anti-climax. What will probably happen to me one day is I'll shoot the low round on the Sunday, set a clubhouse target and the leader will mess up over the last three holes.
Apparently your clinic is one of the most entertaining on the circuit. What's your favourite trick?
I practice trick shots quite a bit on Tour to relieve the boredom of practice. We all do. My favourite is to play keepy-uppy with the ball on my wedge, catch it in my mouth, then spit it out and hit it with a full swing before it touches the ground.
I performed it once for Ely Callaway and he was most impressed.