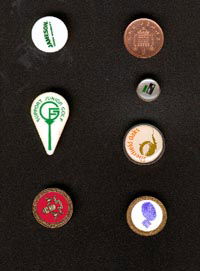 These markers could be outlawed
Coins and traditional ball-markers could be outlawed if a French court decides in favour of a golfer who claimed a deflected putt robbed her of winning a tournament.
The R&A and the USGA are watching developments closely in the case in France and may have to change Rule 20-1 if the judge rules in favour of a 42-year-old golfing lawyer Aprille Duper.
And that means that only specially minted nickel discs 1.5 centimetres in diameter and one millimetre thick, will be allowed for golfers throughout the world. Failure to use them could incur a two stroke penalty.
Madame Duper, a 24 handicapper, instigated the case in the Deauville civil court in Northern France after clashing with her opponent Ms Bete Histoire (51) in the final of the Deauville Country Club's ladies matchplay final in September. It has taken seven months to reach the law chambers.

Euro at centre of storm
Mdme Duper's crucial six foot putt on the 18th green, deflected against the 2mm-thick one Euro coin used as a marker and the ball lipped out, costing her the match.
When the club refused to Rule in her favour when she requested the putt be replayed, the mother of two consequently sued the club and her opponent.
If successful, it could lead to a major shift in golf etiquette and a standardisation of ball markers.
At present golfers throughout the world are, under Rule 20.1, able to mark their balls on the green with a small coin or similar marker, immediately behind it.
Players tend to use whatever coin is in their pocket – whatever the appropriate currency – or use a logoed marker they can purchase from a pro shop or one attached to their glove.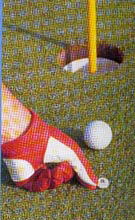 Ball-marking could all change
However, if Mdme Duper wins her case every golfer could well be issued with compulsory identical ball-markers, officially stamped by the R&A or USGA, the game's ruling bodies.
It could also end a long-established and lucrative trade in purchasing and swapping ball markers from different golf clubs. Currently a ball-marker from Augusta National Golf Club, which stages next week's US Masters, is selling for $150 on E-bay.
A spokesman at St Andrews, commented: "As soon as the case is complete we will ask the court for the official documents. This is a landmark day and the outcome should be taken very seriously."
Tell us what you think on the forum. Is this going to put a stop to your own collection of ball-markers?