Two types of hand-held, distance-measuring GPS devices
Golfers are constantly looking for ways to improve and shoot lower scores. But there are many ways to do this without completely overhauling your swing or trying to implement the latest tip from a pro who spends many hours a day honing his or her technique.

One way to quickly improve your game is by practising effective course management and a golf GPS device can make this much easier. These devices - costing anything from around £200 to £400 - can assist any golfer to sharpen their course management, shoot lower scores and increase their enjoyment of the game.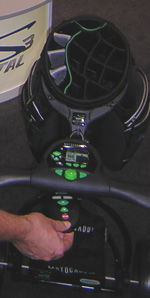 System on board the Motocaddy G5 powered trolley




As with the latest Motocaddy G5, they can even be built into the handle of a powered trolley.

As I've mentioned before I'm a bit of a techno-phobe when it comes to mobile phones, i-Pods and sat-navs in the car but I've just taken delivery of my first hand-held Golf GPS system to review and am apparently a perfect candidate to learn how to make the most of it and quickly get over my phobia.

I'm an experienced golfer who plays by feel and intuition to a reasonable standard but feel I have hit the wall in terms of taking that next step to mid-single figure handicap status. Hopefully a Golf GPS will help me achieve my goal.

Golf GPS devices can be used to determine a golfer's exact distance to the flagstick from different points on the the course. They will also identify how far other hazards such as water, bunkers and trees are from your ball.

It consists of an electronic device with GPS (Global Positioning System) capabilities - using signals from satellites circling the earth to navigate your way around a golf course. The Golf GPS holds customised course maps and data points and accesses up to six or eight satellites to establish your position on the course and then displays your distance to relevant targets. Remarkable.

The benefits of playing golf with a Golf GPS device include:

Knowing your exact distance to the front, centre and back of the green

Golf courses routinely provide distance markers at 150 yards or metres to the front or centre of the green or from sprinkler heads placed throughout the course. However, rarely does a golfer find their ball directly in line with one of these markers and knowing the exact distance to the front, centre and back of the green from any point on the course eliminates the guesswork and to choose the correct club for the flag position. The Golf GPS also allows a golfer to plan ahead when they are in a position where they need to lay up short of the green to a comfortable distance.

Knowing accurately how far you hit each club in your bag

Most Golf GPS devices contain a shot distance feature to measure how far a golfer hits each of their clubs. You may know approximately how far you hit a certain club based on practice on the driving range but they're not always accurate on golf course with elevations. Knowing these distances under playing conditions can lead to improved club selection and lower scores.

Knowing the distance to hazards

Golfers are presented with multiple situations during each round where they must determine what distance they need to either hit over or lay up short of water hazards, bunkers and other obstacles. Instead of guessing or estimating these distances a GOlf GPS device give an exact measurement to help you avoid them.

Increased Confidence

Golf is as much a mental game as a physical game and if a golfer knows the exact distance to their intended target and how far they hit each of their clubs, they will swing with greater confidence and produce better shots. Again this undoubtedly will lead to lower scores.

WHAT Golf GPS DEVICE DO YOU USE?

For a chance to win one of the latest Golf Buddy hand-held GPS measuring devices worth over £300, tell us about the system you're currently using. Submit a comprehensive review and give it a rating and at the end of March, we'll assess the entries and award a Golf Buddy device to a worthy winner.

To submit a review CLICK HERE