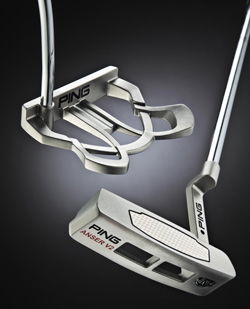 The new Ping Wack-E (top) and Anser V2 putters
Putters - like the modern drivers and hybrids - have always been susceptable to odd shapes and styles and Ping, in its 50th year of manufacturer, has been at the cutting edge of design to give the ball every possible chance of dropping to the bottom of the cup in the least number of shots.
With the launch of the new iN Putter Series, Ping claims it has elevated both feel and forgiveness by introducing new perimeter weighting and insert face technology to achieve less twisting of the clubface at impact.
If you watch slow motion replays during the recent cricket Ashes series, when the ball strikes the bat it almost knocks it out of the batsmen's hands. It helps to identify what happens when putter strikes ball which is why its important for clubs to be made which help stability at this crcial time and keep the golf ball on line.
Ping has, for the first time used lightweight Nano-Nickel to produce a firm feel at impact similar to that of steel-faced putters. And along with proven and head shapes including Anser, B60 and Craz-E, the new stainless steel series introduces the Wack-E and Half Wack-E designs offering alignment features and more stability.
The iN range has been made so each model can be custom-fitted to suit the idiosyncrasies of individual putting strokes and comes with a matching head-cover.
Price for the £115 for Anser V2, B60 V2, D67, ZB2, LiL Wack-E and Half Wack-E is £115, for the Craz-E and Wack-E models the cost is £135 and for the Half Wack-E L (Long ) and Half Wack-E B (Belly) models, £140.