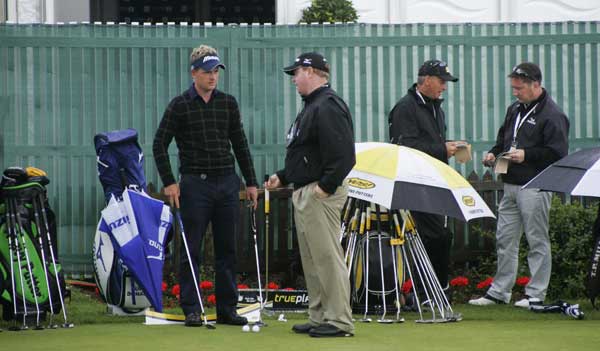 Bags of options: Luke Donald on the practice putting green
    To say that the Open is a week unlike any other might be stating the obvious, but for Tour players used to playing target golf the challenge of an authentic, wind-swept links can be an almost alien proposition.
And when it comes to the choice of equipment, the scope for change is immense. It's one of the few weeks of the year when the 2-iron (or in the case of Davis Love, the 1-iron) makes an appearance, often at the expense of a 5-wood.
A lower-lofted driver might be brought in to help the ball penetrate the wind, while the technicians on the tour vans will spend the week furiously grinding away at wedges to make them sit tight to the firm links turf. Some players might even add a little weight to the putter to help in blustery conditions.
Here's a selection of leading contenders and a few observations of their Open equipment.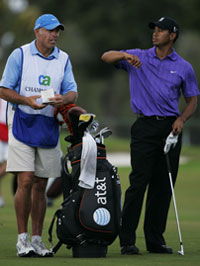 Tiger's back with his trusted 2008 Nike blades this week
Tiger Woods
World No.1 Tiger Woods appears to have gone back to the forged Nike blades that he used in 2008, having initially used the Victory Red blades after his comeback from injury. During the practice rounds at Turnberry he was seen hitting shots with both his 5-wood and 2-iron, the final decision on which one makes it into his bag will depend on the weather forecast.
At Hoylake in 2006 he barely used driver all week having been able to smash his 2-iron 300 yards in the baked conditions. This week, however, metal woods will be required on many driving holes where distance is crucial to ensure an easier approach. Expect plenty of 3-woods off the tee from Woods.
In the bag
Driver: Nike Dymo Prototype (10.5°), Mitsubishi Diamana White Board 83g shaft
Fairways: Nike SQ II 3-wood (13°), Nike SQ II 5-wood (19°)
Irons: Nike forged blades (2-PW), one degree upright, D4 swingweight, Dynamic Gold X-100 shafts
Wedges: Nike Victory 56 and 60 degrees
Putter: Scotty Cameron by Titleist Studio Stainless Newport 2
Ball: Nike One Tour TW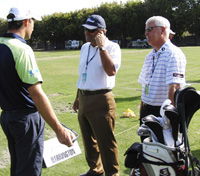 Harrington with Bob Rotella
Padraig Harrington
Two-time champion Padraig Harrington has returned to the tried and trusted as he searches for form this week. The Irishman has been tinkering with various clubs in recent months but has gone back to the exact set that won him all three majors, with the trusty Wilson Staff Dd6+ driver going back in the bag.
Significant, too, is the inclusion of the driving iron that was custom built by Wilson's tour manager Phil Bonham. It's a Ci7 3-iron, bent to the loft of a 2-iron and fitted with a 1-iron shaft. Harrington can somehow squeeze 265 yards out of it when drilling it under the wind. He used it extensively to win at Royal Birkdale last year.
In the bag
Driver: Wilson Staff Dd6+ (8.5°), Prolite 35X shaft
Fairways: TaylorMade Burner 3-wood (13 deg), Wilson Staff Fybrid 5-wood (18)
Irons: Wilson Staff Ci7 (3-iron), Wilson Staff Pi5 (4-PW), Rifle 6.5 shafts
Wedges: Wilson Staff TW9 (54 bent to 55, 60)
Putter: Odyssey White Hot 2-ball blade
Ball: Titleist Pro-V1x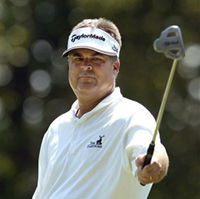 Perry sticking with his Ping putter
Kenny Perry
World No.4 Kenny Perry has been using a prototype TaylorMade rescue club called the Raylor in recent weeks and that looks set to continue at Turnberry. At the US Open, where many players ditched long irons in favour of the higher-flying hybrids, Perry removed his 3-iron and played a 19-degree Raylor, using the v-shaped soled club for shots out of the rough.
The following week at the Travelers Championship where the rough was less punishing, Perry reinstated the 3-iron but then played a 22-deg Raylor instead of his 5-wood. He won that week, perhaps it will do the trick at Turnberry as he seeks a maiden major victory.
And while not actually changing his putter, Perry has also admitted that the soft insert of the G2i Craz-E (that he was given by an 83-year-old club member) will ensure he is positive enough on the slower greens of Turnberry.
In the bag
Driver: TaylorMade R9 460 (9.5°), Fujikura Motore F1 shaft
Fairways: TaylorMade Burner (14.5°), Fujikura Re AX TP75 shaft
Hybrid: TaylorMade Raylor prototype (18°), Fujikura Rombax TP 75 shaft
Irons: TaylorMade r7 (3-PW), FST KB Tour shafts
Wedges: TaylorMade rac (54, 64), Cleveland CG14 (60)
Putter: Ping G2i Craz-E
Ball: Titleist Pro V1x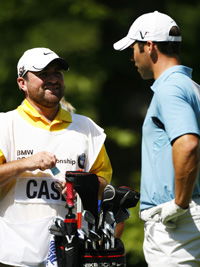 Paul Casey has stockpiled clubs for windy conditions
Paul Casey
World No.3 Casey reckons he will only hit driver on holes 3, 12, 17 and 18 this week, and expects to be hitting the strong 3-wood or the 2-iron on many tees. The 2-iron he uses is an old favourite, the Pro Combo OS, and is one of two or three that the Englishman has stockpiled for windy conditions.
In the bag
Driver: Nike SQ Tour (8.5°), Mitsubishi Diamana Blue Board shaft
Fairways: Nike SQ II (13°) 3-wood
Irons: Nike Pro Combo OS (2), Victory Red Forged Split Cavity (3, 4), Victory Red Forged Blades (5-PW)
Wedges: Nike Victory Red (52, 59)
Putter: Nike Prototype
Ball: Nike One Tour
IN BRIEF
Elswhere, man-of-the-moment Martin Kaymer will not need to change anything, being one of the few players who already carries a 2-iron (Titleist 695MB)…. Cobra Staff Player Camilo Villegas made the decision at the end of last season to sacrifice his 4-iron for a 63-deg Vokey wedge, but will he be able to get round Turnberry with nothing lower than a 5-iron?... Fellow Cobra player Ian Poulter started using the CB irons last year because of a higher ball flight than the MB and hopes the attacking trajectory will let him get at the flags this week. He's also brought the 2-iron… Rory McIlroy admits he won't be doing anything different with his Titleist gear, keeping faith with both his 3-iron and 5-wood… Englishman Graeme Storm is bucking the trend for long irons, favouring a 19-degree TaylorMade 09 hybrid over a 2-iron for Turnberry's softer fairways and greens.