Golf is set to take a lead by revealing a list of banned drugs, which they feel may be performance-enhancing, at The Open Championship at Muirfield in July.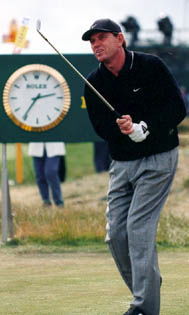 Nick Price - took beta blockers.
Officials from the European Tour and the R&A were in France last week to produce measures to keep doping out of golf and aim to give a lead to other sports on which drugs can be taken safely.
Though it's still uncertain, if the measures would include compulsory doping tests for players, guidelines are being considered, according to the Tour's head of fitness and physiotherapy, Guy Delacave.
"Nobody is sure how things stand on drugs and sportsmen are unclear on what to do and what not to do." Delacave told Reuters. "Now I think something positive is going to happen for golf. The R&A is going to come up with guidelines for golfers on drugs they can and should not use.
He added: "When you talk to scientists about products that can have harmful effects on health, they will tell you the best performance-enhancing products without bad side-effects are water and carbohydrates for muscle combustion.
"That is exactly what the European Tour's fitness and health suite has been providing for many years, so I am particularly happy things are to be made clearer to professionals."
With golfers playing outdoors in a variety of climates and spending hours in aircraft to meet their busy golf schedules, it's inevitable they will be taking medicines to enable them to compete while avoiding colds and aches and pains.
However, as Scottish skier Alain Baxter discovered when his bronze medal was rescinded after he innocently used a banned nasal spray, the pitfalls can be enormous.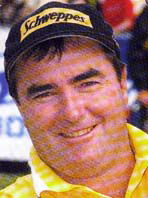 Craig Parry - accuser.
Craig Parry caused a storm last year when he claimed that at least three major champions were taking beta-blockers, tablets that lower the blood pressure and heart rate and curb the flow of adrenalin.
And five times Open champion Tom Watson once revealed that drug abuse had been rife on the PGA Tour.
Fellow Aussie Wayne Grady, chief of the Australasian Tour, denied such claims and said drugs could not help golfers.
However, Nick Price, the former Open and US PGA champion admitted he took beta-blockers for his health.
Tommy Bolt, recently inducted into the Hall of Fame, admitted he took valium during his career to curb his tantrums.
"I still three putt but now I don't give a damn!" he said.
With the rewards from professional golf spiralling, a tournament's medical officer could become as high profile as its referees and tournament director in future.
Do you take drugs to enhance your golf performance? Or do you find one pint of bitter or a wee Scottch is enough to steady your nerves on the first tee? Can drugs enhance a golfer's performance? Tell us your experiences onThe Forum.