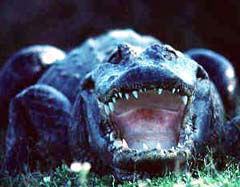 Threatening alligator.
Ex-Ryder Cup golfer Ken Green wrestled a 75-pound alligator to save his two-year-old Alsatian dog when it jumped into a canal to retrieve a ball, according to the Palm Beach Post.
Green, who won five times on the US Tour, between 1985 and 1989, was playing with his dog, Nip, at his West Palm Beach home when the dog jumped into the water, where the alligator attacked the pet.
Green - known for his penchant for wearing green on the golf course, including glove, trousers, shirts and shoes - dived in to try to save his dog.

Ken Green.
"I wasn't sure what I was going to do, but when I saw my dog go under, I went in and tried to grab the gator's tail. I put my arm around his belly and started yanking and jerking. We both slammed into the water and I guess the 'gator got scared and didn't come back after us."
The dog received 30 stitches in a wound but is already on the road to recovery. As for Green, for whom a recent back injury has hampered his return to the Tour, he suffered cuts on his chest and bruised ribs.
"It could easily have been all-she-wrote for me," Green said. "But I wasn't going to let my dog go like that."
And if you've got a better creature story than that, let us know on the forum!