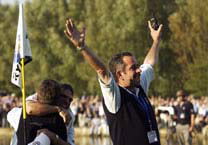 Torrance triumphant.




Sam Torrance's Autobiography is published this week and Golfmagic obtained an exclusive interview with the victorious Ryder Cup captain.

While his career – and especially the epic battle with the USA in 2002 – has been well documented, it was an ideal opportunity to find out a little more about the man, his thoughts about matchplay, gamesmanship and his new career on the Seniors Tour.

Torrance also passed on some fascinating tips and his views on practising for amateur golfers.

I know you're a great fan of matchplay – indeed it's the essence of the Ryder Cup – what makes it different from almost any other tournament. What tips can you give Golfmagic followers?

I think we're very lucky in golf. Playing tennis or snooker or darts you're either in the game or you're not. With matchplay you've always got a chance. The secret is not trying to be too ambitious or do anything stupid. Play your own shots but always be aware of what your opponent is doing.

In the book I talk a lot about the essence of matchplay, trying to find the right partnerships sometimes with players with different characters. Another key thing is to never give the hole away, make sure your opponent has to win it. Even if the best you can do is a bogey or double bogey – make them beat you for it.

There have been stories about gamesmanship in golf over the years. Where do you stand?

I abhor it, hate it. I don't mind a wind-up, never have; but I don't believe in gamesmanship…at all. I think it's part of the sport that is certainly not necessary. Gamesmanship to me is cheating. It's like footballer when the two of them go for the ball and one knows they touched it last as it goes out of play. Almost always they both put their hand up to appeal that it wasn't them. One of them is lying but they get away with it. In golf, it's such a fair, honest sport that gamesmanship cannot come into it at all.

I was once told by a European Tour Rules official that your good friend Ian Woosnam asks for more Rulings than any other player. (Torrance laughs). What are you like on the Rules?

(Torrance laughs with that familiar Scottish chuckle) I must tell Woosie that next time I see him. I'm not bad on the Rules really, though I did get disqualified once for a Rules infringement, then got re-instated.

It was in the third round of the Italian Open in Sardinia and my ball finished over a drainage ditch but between two out of bounds posts. I asked for a ruling and three Rules officials in blazers came up and said I was okay to carry on. My ball was in play, no penalty.

Later I was told I was disqualified. I was furious and after appealing I was re-instated because, as it turned out, the guys in blazers weren't official rules men, even though I'd taken their word for the ruling I got.

It was very important at the time because I finished high enough in the tournament to get second or third in the Order of Merit and qualify for the US Masters.

You're known as a bit of a gambler on the golf course, Sam - and indeed elsewhere. Do you recommend club golfers always have a side bet when they play?

Definitely. I don't care whether I play for a £1 or £1,000 it doesn't make an difference to me. It's that edge – that you're actually playing for something. You either put your hand out at the end or put your hand in your pocket. I always think it's important to play for something because it keeps you competitive – that each shot means something.

When amateur golfers ask for advice from pros they are inevitably told to practise what they are taught. Do you practice what your colleagues preach?

If I'm honest, I've never been a lover of practising. But I have practised hard in my time.

Now that you're playing on the Seniors Tour after your 50th birthday have you been practising hard?

No not at all. Before I joined the Seniors last month I played virtually every day against my mates at Sunningdale. That kept my game in shape.

What does the Seniors Tour mean to you?

It's a real chance to win again but also to be back among my old mates like Bill Longmuir and Carl Mason who are doing so well.

Your son Daniel, with his father as a top pro and his grandfather as a top coach, won't want for much coaching. But what advice would you give to players – and indeed to fathers – who believe their offspring have talent to make it?

They need proper coaching from a proper coach. You can't always see what you are doing wrong.

And if the father's a non-golfer and the child has a lot of talent, he may be endorsing a fault. A proper coach can tell them what to do and what to work on. You need proper guidelines when you practice – rather than practising for the sake of hitting balls.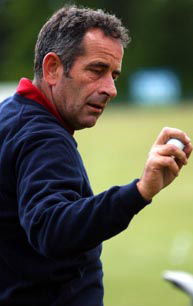 Torrance – clean shaven.
Does your dad still give you a bollocking?
(Laughs). Are you kidding? Of course he does. But there are not so many bollockings these days.
He's always been right – that's the annoying part. He's always been right about my swing – no matter what I've done.
I came back to my home town of Largs after winning the Spanish Open once and he told me my swing was 'crap' and to go and practice. And he was 100 per-cent right. I knew I hadn't played well in the last round but I hung on and chipped and putted well. But it's not the thing you want to hear when you've just won the event and come home.
I think the invention of video cameras is wonderful. The coach can actually stand there and show you what he means. In the early years before videos Dad would be telling me some fault in my swing and I didn't believe him. Today he says ' there you are then, tell me you're not doing it now. Look at that!'
He's very knowledgeable about the golf swing, my father. He teaches what he sees – he doesn't teach a method. He has his basic key points. He couldn't teach a Nick Faldo or an Ian Woosnam the same thing because they're two different entities.
He improves what you've got. But he'd tell you in no uncertain terms. He's not shy.
You were one of the pioneers of the long-handle putter. So many players these days are using versions of it these days. Do you think the R&A might ever outlaw it?
The R&A have checked on the broomhandle a couple of times and decided there's nothing advantageous in it and I don't see anything wrong with it at all. It's part of the game.
We very rarely see amateurs using it. Should more of us try it?
You should certainly give it a go, particularly if you're not too confident with your putting. The problem with orthodox putting is it's two hands trying to work as one and when one hand takes over you've got no future.
With the broomhandle – whether its anchored to your chest, your chin or your tummy – you're putting with your right hand. That's the key to it. There's no other hand to take over.
You recall in your book how you lost to Ronnie Black in 1983 for the Southern Open in the US Tour. You didn't pursue it in your book but might it have changed your life if you'd beaten him in that playoff?
It certainly could have done because I would have got a three-year exemption. But I came back and 1984 was my best year. I won three times, finished second in the order of merit and my future was laid out in front of me.
Do you like playing the USA circuit?
I love playing in America but I don't think I could play there full time. I'm too much of a home bird. I like to get home on a Sunday night. Playing in America, that doesn't happen.
For those of us who have never been to your home in Surrey, describe where you are while doing this interview.
I'm sitting at my desk in my snooker room – it's a pool table actually - with my computer open. There are quite a few Ryder Cup pictures and trophies. The one I'm looking at right now is the one of me accepting the trophy with a great big beaming grin on my face.
There's an oak bar – in fact the whole room is oak panelled – nice lighting. Lots of pictures and trophies big flat-screen TV. We've got music in here. We've got the lot. This is where we, the family, hang out. We watch movies – mostly kids movies for Phoebe and Anouska.
You were behind the nomination of Ian Woosnam as the next Ryder Cup captain but in the end Bernhard Langer got it. What's your reaction?
Phew! That's a fairly delicate one. But I think Bernhard will be a fantastic captain. My suggestion was Ian because I thought my greatest asset as a captain was being vice-captain the time before under Mark James. I learned so much about the job of captain in that period which I had not learned one iota of playing in eight Ryder Cups.
I thought that was my greatest asset and as Ian was my vice-captain in 2002 I thought he was the perfect man for the job.
There's a hell of a lot more goes on than you would imagine. You're cossetted as a player. Everything is done for you.
What are Bernhard's strengths and qualities?
His mind. He's a great strategist and won't leave a stone unturned. He'll do everything for the team.
What clubs are in your golf bag?
Bit of a mixed bunch at the moment. Callaway Big Bertha II driver, TaylorMade 3-wood, Callaway 7-wood, Mizuno MP-33s irons (3-iron- to lobber). And I switch between two broomhandle putters – ones an Odyssey Two-ball and one is an old Titleist.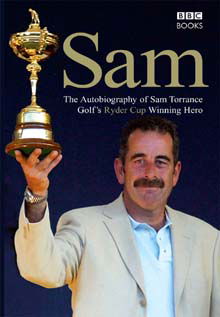 Sam's book – 'fun to do'.
The book was written in conjunction with Daily Mail golf-writer Alan Fraser – a fellow Scot. Was it fun to do?
Absolutely. We sat down with a bottle of wine several times and told a few stories. I've known Alan for over 30 years so he was the ideal man.
Anecdotes got a bit foggy at times. We had to resort to the tape the next day to see what we'd actually said. But it was great fun.
*Sam Torrance The Autobiography, written with Alan Fraser, is published on September 25 (published by BBC Books) price £18.99.
Look out for a chance to win one of five copies signed by Sam Torrance in an exclusive Golfmagic competition.