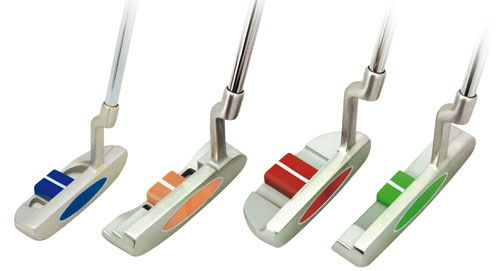 Colourful range of Spectra putters
Though perhaps better known for its Hex Square driver and its ITX2 irons, HiPPO Golf, aims to make a colourful impression with its new range of affordable putters.
Each Spectra putter is heel-toe balanced and precision engineered with the aim of ensuring a consistent and pure ball-striking and each of the four models features alignment aid, colour co-ordinated insert face and Hippo Tour putter grip.
The putters are available in four different traditional-style putter designs each with a unique colour - G1 (green), B1 (blue), R1 (Red) and O1 (orange) and priced at £19.99 are likely to appeal to new golfers and juniors looking for individuality.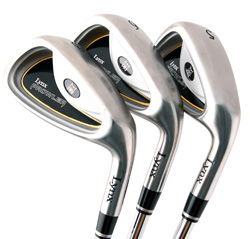 Prowler mid-irons
With the traditional 3- and 4-iron tending to be fazed out in modern sets of irons Lynx Golf, has introduced its new Prowler hybrid set making the longer-shafted clubs more playable and forgiving.
Compact utility rescue-style clubs replace traditional the longer irons using a progressive sole system, muscle back design and lower centre of gravity to improve the ball flight and make these utility clubs easier to hit.
Prowler mid-irons have a deep cavity design to make them more consistent and forgiving and the short irons have a cleaner profile for better feel and distance control around the green.
The clubs are available in right-handed steel or graphite-shafted options, priced £249.99 or £299.99 respectively.
*What's in your bag? Have you changed your putter recently, have you discarded the 3- and 4-iron in your set to introduce one or more hybrids? Submit auser review for the clubs you carry for the chance to win prizes every month.
And if you've got equipment to buy or sell second hand you can do that too, in our popularclassified section.