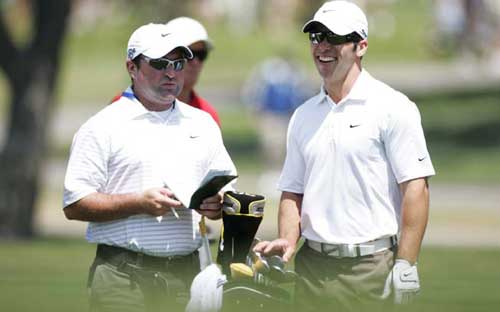 Craig Donnelly with Paul Casey during yesterday's final practice round
Great double acts work best as a team. Stan had Ollie, Sonny had Cher and golfers have their caddies. And England's Paul Casey has Scotland's Craig Donnelly.
While Casey hits the shots and earns the cash, he couldn't do it without 10-handicapper Donnelly doing his maths around the course.
"I arrived last Sunday and walked the course on Monday morning so that when Paul arrives I already know the course," Donnelly told me. "For regular tournaments we tend to arrive on Monday and start practice on Tuesday. But you need that extra day for the majors, especially at a course like Torrey Pines, where I haven't been before and Paul hasn't played for several years."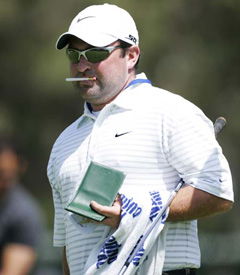 Multi-tasking: Caddie Craig Donnelly checks yardages and cleans and carries Casey's clubs. But there's far more to the role.




Donnelly said he tries to prepare the same way for every tournament but everyone knows the majors are bigger. He heads out on the course with the official yardage books but always adds his own notes and yardages that are specific to Casey's game.

"They are little extra numbers just in case you need them," he says. So what role can the caddie play once the tournament starts?

"Like any job, when things are going well, it's easy. But when things go wrong, I have to be there to pick Paul up and make sure he stays calm. If I feel he is about to lose it, then it's time to say something. It could be a kick up the backside or an arm around the shoulder."

Staying focussed for fives hours every round is when the double act comes into its own. Between shots and walking down the fairways, Casey and Donnelly talk about football, racing cars, politics, anything.

"The same old crap that everyone talks about," Donnelly laughed. "You can't concentrate intensely for five hours. It would do your head in. Then, hopefully on Sunday afternoon, Paul will have a good chance to win." And then Donnelly can bank his 10 per-cent.

*Paul Casey is paired with fellow Englishmen Ian Poulter and Luke Donald off the tenth tee today at 9.14 pm UK time).

Tell us on the forum your experiences of caddying for a pro or another amateur.