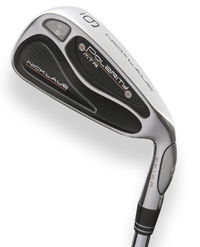 Nicklaus Polarity MTR iron
The principle of a pole held horizontally by a tightrope walker to distribute the weight and maintain balance, has been used by Nicklaus Golf's Clay Long in creating his latest Polarity MTR irons.
The stability of the clubhead, says Long Clay, helps resist twisting at impact and therefore makes it easier to hit the golf ball straighter.
He says: "I patented this technology a few years ago, but the emphasis at that time was not on MOI (Moment of Inertia) as it is now. It's the buzz in the industry so my technology was worth a new look. I tweaked the concept by distributing the weight more evenly from toe to hosel and it also makes it twist resistant.
"Traditional weighting on irons is toe to heel. With our new irons weighting, we're delivering tighter shot dispersion."
Polarity MTR irons also feature progressive offset and sole width - less on short irons, more on long irons - and a urethane inset for improved feel.
They are available in a 3-PW (£449 steel shaft, £549 graphite) with Lob, Gap and Sand iron available to order at £54 each (£79 graphite). A Plus set consisting of the two Claw hybrids and Polarity irons (5-SW) will cost £599 (£699 graphite).