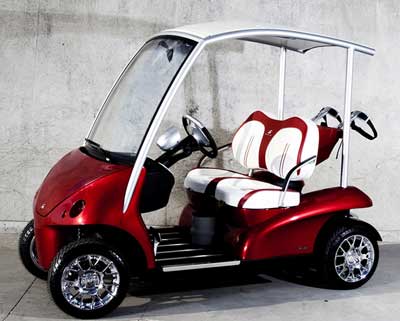 The Porsche-inspired Garia golf buggy
  While considering what Santa might bring you as a frustrated golfer in these tough economic times, spare a thought (if you can) for the player who has almost everything and is puzzled as to what might his game even better.
Introducing The Garia - the world's most exclusive golf limousine, made at the same factory that produces the Porsche Cayman and Porsche Boxster.
The price, for a banking executive or a lottery winner is a mere £12,630 (plus VAT and delivery, of course).
 The Garia features an in-built refrigerator, hand-stitched seats, and an exclusive personalised programme where you can choose to have painted in your favourite team's colours or matched to your other cars.
Designed by Dane Anders Lynge, The Garia follows the Scandinavian tradition of clear-cut and classic lines combined with functionality and claims to be 'a complete reinvention of the traditional golf buggy'.
For the technicians, it features a double wishbone front suspension similar to that found in sports cars and inspired by F1 cars. The drive train is built by an Italian company that also produces world championship-winning Ducati motorcycle gearboxes. The aluminum profiles in the frame are made by the same company that supplies them to Aston Martin, Jaguar and Volvo and the hydraulic brakes are fitted with discs in the front and drums at the rear.
The Garia is manufactured at the Valmet Automotive factory in Finland, which makes Porsche's hotted sports cars.  
Whether it will give its owner the satisfaction of being a better golfer is questionable - it's not part of the warranty - but they're unlikely to be short of glamorous playing partners willing to share the experience.