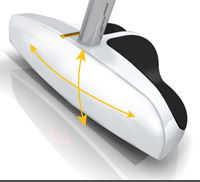 Spherical Blade putter's curvy concept
Hot on the heels of the latest putter technology, including insert faces, belly shafts, moveable weights and cylindrical heads comes the Spherical Blade devised and developed in Wales.
The club is the brain child of 70-year-old Ivor Thom, a retired design engineer and former captain of Newport Golf Club. Now Vale of Glamorgan golfer Ian Smith has invested £100,000 in the company to manufacture and market the putter, backed by Ryder Cup Wales 2010.
What makes the Spherical Blade putter unique is its slightly convex face -both from top to bottom and side to side which gives the ball top spin by striking it just above the equator and makes the strike more forgiving with mishits.
Says Smith: "When you address the ball with Spherical Blade, the putter's two curves work in harmony. The vertical curve prevents skidding and creates roll, while the horizontal curve counters manual twitch - that last-second involuntary action that's prone to sending the ball off line. This putter's unique in combining the two."
He adds: "I have had testimonials from average club players all the way through to former Ryder Cup player Manuel Pinero, that say you get a great roll and so sink more putts. "We have a letter from the R and A to confirm it is legal and we are going down the patent route now. The feedback has been great so I do not think I am taking a gamble."
The face is precision engineered, so at £129 is not cheap but comparable with other leading brands.
"My goal is to have one of the players using one of our putters at the 2010 Ryder Cup at The Celtic Manor, " says Ian.