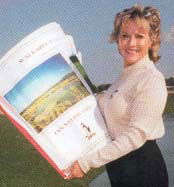 Jan Stephenson - accused




It was a strange old weekend for women's professional golf – one player accused of racist remarks, another confronted over a Rules dispute – and a third missing the cut in a men's event.

Aussie Jan Stephenson issued a written apology to the Asian community for criticising Asian women golfers in an article in the US 'Golf Magazine.' Which inferred that top-earning Asian players were "killing" the LPGA Tour by not making themselves more available for promotional purposes. She claimed they left tournaments without talking to the media.

The veteran said she had helped promote the LPGA Tour – including a glamour shoot in the 1980s - when she was younger and is annoyed there are some who don't do the same.

"By no means did I intend to hurt anyone nor were the statements racially motivated," said Stephenson who was the first woman to compete on the US Champions Tour this week. "I clearly understand how these comments could be taken as racial comments and for that I am truly sorry."

She shot an 80 in the first round of the Turtle Bay event on Friday, 12 shots behind co-leaders Dana Quigley, Hale Irwin and Rex Caldwell.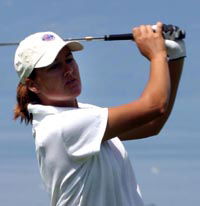 Gustafson – accused (B Cutler pic).
Swede Sophie Gustafson, meanwhile, had to endure trial by television before winning the LPGA Samsung World Championship in Texas.
Named the Evian European Tour's Player of the Year this week, she returned a sparkling six-under 64 on Sunday to edge out Rachel Teske and Beth Daniel only to face disqualification over a possible Rules infringement.
"I think you should look because you always want to remove the doubt," Gustafson said after winning her fourth U.S. tournament, and first in more than two years.
The 29-year-old Swede ran into a rules dilemma on the 14th green. After standing over a birdie putt on the 14th green, Gustafson (29) backed off as the ball, on the edge of a slope, rolled on its own for several feet. An LPGA official allowed her to play the ball from the new spot and she made par, prompting questions whether she should have been handed a penalty.
Her actions, reviewed on video, eventually determined she had not grounded her club but merely had taken her stance before putting.
"The ball had stopped on the top of the slope and I marked it and then I put it back," Gustafson said. "I knew that it could move and so I never grounded my club. Then it started wobble, so I backed off again and probably three to five seconds later, it started to roll down the slope."
A second dispute emerged over Gustafson's replacement of a divot off the 15th green. After her round, she was returned there to show officials that she hadn't a repaired pitchmark on her line of play.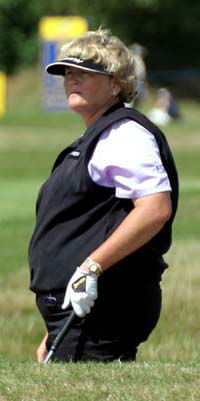 Davies – cut miss (B. Cutler pic)
In Seoul, South Korea Laura Davies became the first-won to compete in an Asian PGA Tour event. She missed the cut with rounds of 78 and 77.
Afterwards she declared: "Nothing was bad, but nothing was really good. It was just a little bit missing from everything."
She was in good company – Justin Rose also failed to make the weekend after shooting 76 and 77. The event was eventually won by John Daly.