Greetham's closing holes - if only we'd got that far!
Before it leaks out from 'un-named sources close to the palace' I have to make an admission of perhaps the most embarrassing performance of my 35-year golf career so far.
Not only does it qualify to join the legendary Golfmagic Shambles Club, it justifies Platinum membership with my own private box and souvenir shop!
I have always found it incredulous that anyone, let alone a golfer with my experience (of around 35 years), could suffer the humiliation of a matchplay defeat where you not only fail to win a hole but lose EVERY one.
In the trade it's known as a 10 & 8 defeat - beaten on TEN successive holes with only eight to play and therefore impossible to salvage any kind of pride or dignity.
My fourball partner and I (a fellow GM member who shall remain anonymous unless, of course, he wishes to share our shame at a later date!) had looked forward to our first round clash at Greetham Valley yesterday against a couple of talented junior members. We had a wealth of experience behind us, indeed I'd won this title with my golf partner's son five years previously.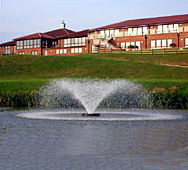 10th tee plays over a lake




We lost the first, second and third holes to impressive (though outrageous) chips by Tom (handicap 10) for a couple pars and a birdie, then allowed them to go five up when I three-putted the next two. It looked even bleaker when Danny (handicap 16) holed for birdie from 10 feet at the par-3 fifth and I thinned a greenside chip at the 7th (when my partner drive OB) to lose to a par-4.

Seven down and getting a little tetchy, we lost the 8th to solid pars - 'this was getting silly...surely this isn't happening to two old stagers like us?' - and at the 9th Danny claimed the hole with one of the strokes we were giving him!

We thought it strange that our opponents should detour via the pro shop for further fizzy drink supplies, with the match so indelicately poised, and as we waited on the tenth tee (nine down with nine to play) seriously considered claiming the hole because of 'undue delay' (Rule 6-7).

But we decided in their brief absence (while the jungle drums were obviously being set in motion) that they couldn't have dispatched us out of our misery any quicker than they were already doing.

However, the arrival of one of their young compatriots to watch the anticipated coupe de grasse made our anticipated tee shots even more unnerving.

The par-3 10th on the Lakes course at Greetham is a tough uphill 180-yard hole over a lake to a two-tier green and yesterday the pin was tucked at the back left behind a yawning bunker.

When young Danny, who had played a minor but vital role in our debacle, miss-hit his approach, my partner and I glanced at each other with a look that said if we could get a half here, in our situation, it would be a 'result'.

But teenager Tom's reposte was merely taking the p***...

He launched a towering mid-iron at the flagstick which pitched and stopped within four feet and as we both missed the green - my partner buried like a land mine in that front bunker - Tom rolled in his putt for an outstanding, match-winning birdie two.

Just as they were magnanimous in victory we were equally gracious in defeat taking solace form the knowledge that these young bucks were three under par (gross) betterball for the 10 holes played.

By the time we returned to the clubhouse for our respective pints of fortifying ale (and their cokes), we felt fingers of fate pointing at us from the shadows, knowing eyes boring into the backs of our necks; our golf reputations in tatters.

We considered keeping a low profile for a couple of weeks until the heat of our defeat had died down; perhaps even take up an alternative sport where such humiliation is less profound.

Nah! We'll be back next week, we decided, in continueing pursuit of golf perfection. Having trawled the depths of a 10 & 8 matchplay defeat, the only way is up.

Tell us on the forum of your golf humiliations and embarrassments.