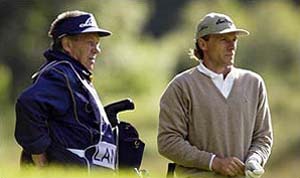 Pete Coleman on the bag of Bernhard Langer
Pete Coleman has been the most successful PGA European Tour caddy of the last 25 years. He has carried the bag for some of the world's best players including Seve Ballesteros, Bernhard Langer and Lee Westwood.
Nowadays he works at a more leisurely pace caddying for various young players as his career winds down.
Coleman is sought out on Tour by players and fellow caddies alike for his advice on how to get the best out of their careers.
His thoughts are of equal usefulness to the amateur golfers. This is a man who reckons a good caddy can save even a top pro at least one shot per round and that kind of precise information is just what is needed for even the club golfer.
"Any good caddy helps by giving a player the correct yardage and knowing what club the player should hit," says Coleman.
"On the course, though, there's nothing a caddy can do to stop players pull-hooking or missing greens by 20 yards. You have to keep calm and give the player the yardages and suggest things.
You watch it happen, but you can't show it's affecting you. You just have to stay calm and not let it affect you. Hopefully the player gets back on track," he says.
It's off the course that a top caddy can come into his own as part-coach, part-friend. "I couldn't say who is the best caddy because every player needs someone different.
Some like a cheerleader, others want you to keep quiet. One of the keys for amateurs is if they listen to the advice.
There are lots of amateurs that think they know it all, but I like those that are willing to learn from an experienced caddy," says Coleman who has carried the bag on 59 tournaments victories for nine different players and may just know something about how good golfers play better golf!