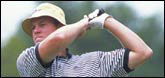 Wam-bam Schwamkrug!
If confirmation were needed that the golf ball is being driven further than ever, the appropriately named Victor Schwamkrug, is your man.
The 20-year-old Texan recorded an average driving distance of 339.3 yards on the PGA Nationwide Tour – out-hitting John Daly's previous PGA Tour record (set last year) of 306.8. Daly could manage an average of only 314.3 yards this time, seven behind Hank Kuehne on the main Tour.
Sadly Viktor's spectacular hitting merely underlines the 'drive for show, putt for dough' cliché. He finished 90th on his Tour with less than $50,000. For the record he used an AcuFlex Assassin II shaft in his 47-inch driver – the longest on Tour.
"The shaft is not only stiff enough to stand up to my swing but it also recovers through the hitting zone like no other shaft I've ever hit," says Schwamkrug. "Also, the ball flight is amazing. When you hit it, it stays on a rope. No ballooning or drifting from side to side."
On the main PGA Tour, nine players averaged over 300 yards, including Mickelson, Clarke, Els, Singh and Garcia, while in Europe 16 achieved the magic figure. Tom Purtzer hit longest on the Champions Tour for over 50s with 298.3 yards while World No.1 Annika Soremstam was longest of the LPGA Tour with an average of 280.6 yards.
Top gun on the European Tour in the Reuters Stats was South African Titch Moore with 316.7 yards – just a few inches ahead of Italian Emmanuel Canonica. Leading Briton was Paul Casey with an average of 304 yards.