Price: Irons £249 (steel, 3-Sw), £399 (graphite); Metalwoods £60 (steel 1-, 3- or 5-wood), £70 (graphite)
While I've always been mystified by the significance of the umbrella logo which identifies all products associated with Arnold Palmer, my own dealings with his Bay Hill model clubs make it quite appropriate.
It was while testing the Bay Hill by Arnold Palmer GTD (Gravity Tech Design) irons, that my trolley was swept into a lake at my home course, together with bag, metalwoods, waterproof jacket, balls and car keys!
As I have written previously, all were recovered within a few minutes apart from a putter and a GTD 8-iron retrieved by a diver the following day.
The clubs suffered no ill effects and only my pride was dented.
I have completed four rounds with the irons and at under under £250 for the steel-shafted models, I would put them in a category well above their price point. I have played with irons double what these makers are asking and none are more forgiving.
First impression at address is of a heavy head with a chunky but sleek top line. The back of the head is sculpted out, almost large enough to carry a cigar butt and need regularly cleaning to prevent it filling with mud in wet conditions.
My local pro agreed that behind the ball, the head looked a little open to the target but with a generous loft that would give encouragement to the new golfer. Indeed the ball flight from sand wedge to 5-iron was higher than I have found with any previous set of irons I have tested.
With each shot the ball soared to new heights and plummeted consistently like a stone into soft turf, more often than not, close to the flagstick.
The sand wedge behaved impeccably from 70-90 yards with full shots, though carried a little too much loft for those finesse chips around the green. The ball continually came up short. It was heavy to control out of bunkers but as a scoring club for pitching, I'd have it in my bag anytime.
The rest of the set, up to 5-iron, produced a solid strike and a high ball flight as heads delivered a low centre of gravity to get the ball airborne quickly.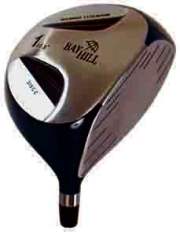 Bay Hill GTD driver – small but powerful.

However, as readers of my reviews will acknowledge, I'm not a fan of 3- and 4-irons and was unable to develop a consistency at impact. I much prefer to replace them with a utility club like a 7-wood.

Which brings me on to the Bay Hill GTD woods which each cost £60 for steel shafts, £70 for UST graphite. The 1-wood in the set of three (1-, 3-, 5-wood) was tiny in comparison to the King Cobra SS 430cc Ultimate I have been testing recently.

At 250cc, its size paled against the monster currently available and was more akin to your average 3-wood. However, caught out of 'its meat' it delivered a low and powerful, boring flight, which occasionally matched its bigger brother in terms of overall distance.

But despite being True Temper Gold 'regular', the steel shafts in the clubs were too whippy for my taste and it was also surprisingly tough to get the 3- and 5-wood airborne with any regularity.
Verdict

At £249 for 3-SW these irons are terrific value for the high handicap golfer looking for his first set, even with a couple of long irons you don't really need. They make the ball fly high and land soft and will give a real boost to your confidence. Sadly in my opinion the GTD woods were not as impressive. Better to shop around to hand pick a driver and utility clubs to suit your game and budget.
Golfmagic rating: 9/10 (irons), 5/10 (woods)